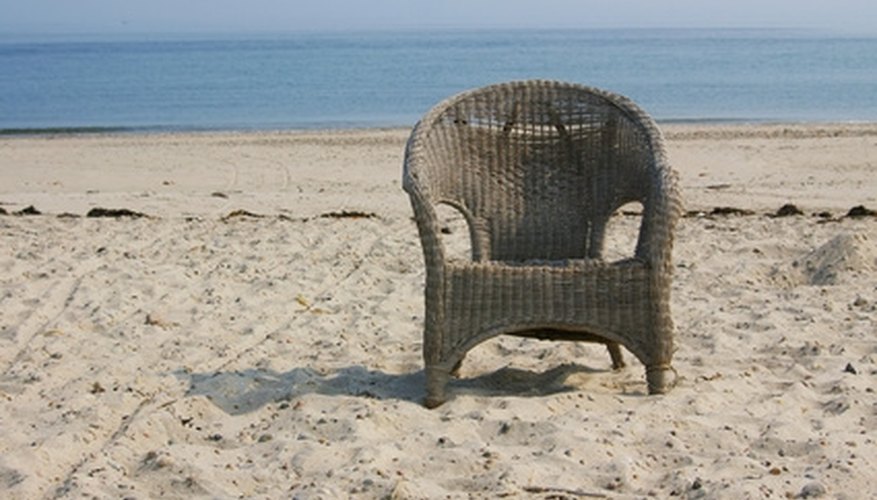 First, the slipcovers will need to stand up to outdoor, or at least screen room or sunroom, conditions. Second, wicker can making holes in slipcovers and create more than the average level of wear and tear. In addition, most wicker outdoor sets have a curved shape, making cutting out the slipcovers and sewing them more complicated than making slipcovers for a boxier-shaped living room set. With a little extra effort, making slipcovers for wicker furniture can still be a weekend project.
Measure the wicker furniture to be covered. Obtain measures for the height, width and depth of each piece. Ensure that you have enough of the heavy-duty fabric to cover each piece adequately, allowing for at least 12 inches of waste for each item you are covering.
Drape the fabric over the piece to be covered, and use the tailor's chalk to mark the outlines of the various sections of the furniture piece. Carefully mark the outlines of the back, the seat, the armrests if there are any, the drop from the seat, the wings if there are any, the sides and the backrest.
Cut out the fabric pieces you've marked, leaving a 1" seam allowance around each marked line. If you are a beginner, mark farther from the outlines of the furniture and cut fewer pieces to make looser, but easier to construct, slipcovers. For instance, cut one long piece for the seat, drop, backrest and back, making the piece fit rather loosely, rather than cutting a precise piece for each of the four areas.
Placing right sides together, sew the pieces of the slipcover together using heavy-duty thread. Allow a 1-inch seam allowance.
Fit the slipcover to the piece of furniture, and adjust it to the actual size and shape of the piece, using pins to fit the cover. Resew any seams as needed.
Refit the slipcover. When you are satisfied with the fit of the cover, reinforce the seams by restitching each one, and use zigzag stitching over the raw edges. Turn the slipcover right side out. Embellish with decorative trims and ribbons as desired.
Things You Will Need

Heavy-duty, preferably outdoor or treated fabric
Measuring tape
Sewing machine
Heavy-duty thread
Decorative trim or ribbon, if desired
Tailor's chalk
Scissors
Long straight pins (2 inches or more)