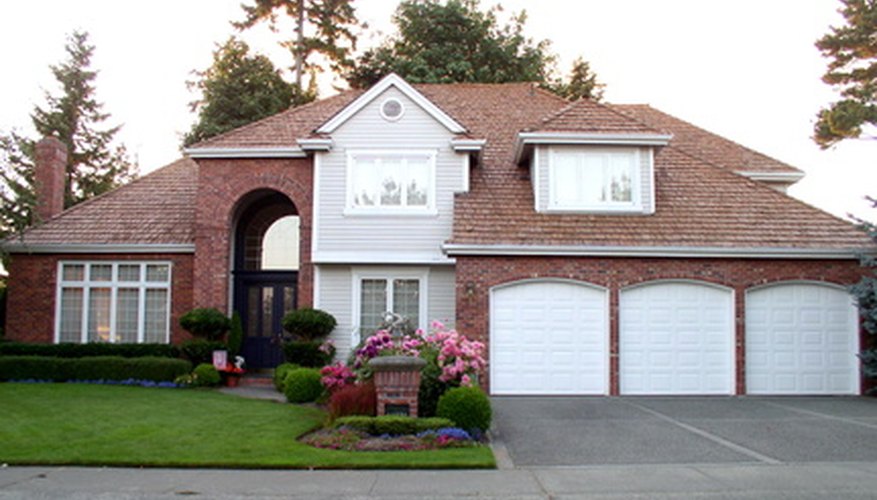 A good layout should include shelving, cabinets and a workbench area. Many options are available for building storage systems and installing vinyl and other materials on the floor. Any garage can become a work of art in terms of its design, since many garage storage systems have a designer look for their component parts. Methods for creating a layout for placing cars, boats, hiking equipment and other items can involve creative input from the whole family.
Step 1
Measure the interior of the space. Use a tape measure or ruler to define the exact square footage. Allow at least 3 feet of margin for opening a car door, whether spacing one or more cars. Leave room on the garage's back wall and side walls for shelving or cabinets. Allow at least 18 inches of space between a closed garage door and the back bumper of a parked car.
Step 2
Utilize part of the wall shelving area for a workbench. Designate 5 or 6 feet of linear space to hold a workbench for repairing small items or doing woodworking. Consider fitting a workbench into an L-shaped corner space of the garage as well. Add cabinets over the counter area to store tools, paint or building materials.
Step 3
Plan to use the ceiling area in unique ways. Take advantage of ceiling height that is 9 feet or taller. Use special accessories to create racks for storing lumber or a canoe, for example. Don't overlook running plumbing pipes through an attic area, if a bathroom will be part of the layout.
Step 4
Buy cabinet systems for floor-to-ceiling storage. Plan to give the garage a polished look by buying cabinets in a special color scheme or material. Buy these designer cabinet systems as kits that are assembled on site. Incorporate pre-made cabinets from a home improvement store or recycled cabinets, if the budget is limited. Give recycled cabinets a uniform look by painting them all one color, such as white or gray.
Step 5
Add special accessories to the garage layout, if the garage leads directly into a house. Secure a metal hanging rack for coats, for example, near a kitchen entrance door. Install pegs for holding school backpacks or a rack for shoes and boots to create a mudroom as part of the garage.
Things You Will Need

Tape measure or ruler
Sketch pad
Graph paper