How to Protect a Wall From Metal Bed Frames
The sturdy construction of metal bed frames allows homeowners to use them for many years without the fear of breaking. One downside to a metal bed frame is the possibility of damage to your bedroom wall. The metal frame striking the wall can cause hundreds of dollars worth of damage. Luckily, there is a way to protect your bedroom wall from this damage and still maintain an elegant look. A simple, strategically placed wooden bumper will eliminate the potential for damage to your drywall.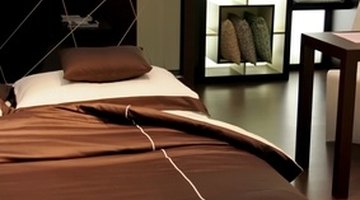 Move your bed away from the wall. Measure up the wall with your tape measure and make a pencil mark 2 inches higher than the height of your bed frame. Hold your level against the wall. Line up the top of the level with your pencil mark on the wall. Adjust the level so that the bubble rests between the marks on the tube.

Draw a line across the top of your level. Move the level 4 feet to the right and continue the line to make it 8 feet long. Rub your stud finder along the level line on your wall while holding the locating button. Make a pencil mark on the wall every time the indicator light on the stud finder comes on and every time it goes off.

Hold the board against the wall. Place the top edge of the wood against your level line. Run screws through the board and into the wall with the Phillips bit on your drill Place each screw between the marks on the wall that are 1 1/2 inches apart and signify stud placement. Install a screw 1 inch from the top edge of the board and 1 inch from the bottom edge of the board at each stud location. Slide your bed back into place.
References
Writer Bio
After learning electronics in the U.S. Navy in the 1980s, Danny Donahue spent a lifetime in the construction industry. He has worked with some of the finest construction talent in the Southeastern United States. Donahue has been a freelance writer since 2008, focusing his efforts on his beloved construction projects.
Photo Credits
More Articles