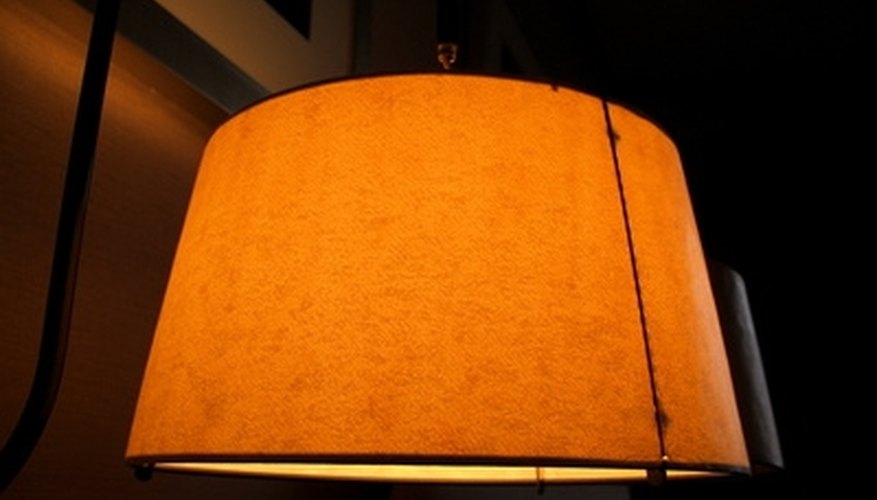 While you can mix and match lampshades with lamps, a poor fit can leave you with a wobbly lampshade or a shade that won't stay put. To get your shade to stay on the lamp, first you need to determine why it won't. Unfortunately, sometimes the only way to get the shade to fit right is to exchange it for one that fits better with the floor lamp's socket.
Compare the size of your new lampshade with the old one. If the new lampshade is too wide or so long that it's hitting the sides of your pole lamp, it will never hang right. In this case, there is nothing to do but return the new lampshade for one that's the same size or closer to the size of the old one. Brown's Lamp Shades recommends that a new shade match the height of the old one, to reduce the chance of problems.
Look at the way your lampshade attaches to the lamp. Most lamps use a harp setup, where you fit the shade over the lamp, then screw a finial to hold the two together. Other lamps use an UNO, where the shade sits on the socket, and the bulb screws in above the lampshade. Another type of shade clips onto the light bulb. If you have a lamp that requires an UNO lampshade, you can use a clip-on shade, but not a harp shade. With a harp lamp, you can only use a harp shade. Ensure you have the right type of lampshade, or it will never stay on the lamp.
If you have a harp shade that will not stay on, measure the size of your harp and finial. They aren't created in uniform size. You can purchase and install a smaller or larger harp if your new shade is too big for the old one.
Purchase a silicone grip strip to help clip-on lampshades stay on without wobbling, advises website Shine.yahoo.com. The silicone "rubberizes" the metal clips so they grip better, and the clips work with both incandescent and CFL bulbs.