How Do I Repair Swivel Seats that Come Off Bar Chairs?
Bar stools are used in the home for everything from grabbing a quick bite to eat at the kitchen counter to long, relaxing evenings in the family room. These stools see a lot of action on a daily basis. As a result, their swivel scan wear out, they can become dented or the seating materials can wear away. Rather than throw them out, you can repair and update the stools to make them good as new.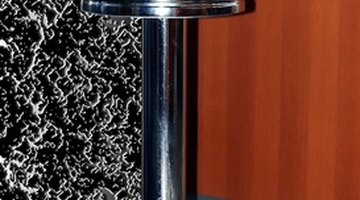 Measure the chair from under the seat to the floor, at the front and the back. If the seat front is higher than the back, buy a tilted swivel. For every other type of chair, including those with no backs, buy a flat swivel.

Measure the distance between the screws on the existing seat swivel to determine the correct size of swivel you need.

Double-check for type of swivel by removing the swivel plate and placing a level on top. If it is level, you need a flat plate. If one end is higher than the other, you need a tilted plate.

Screw the new swivel plate into place. If the holes for the new plate don't match up with the old ones, carefully drill pilot holes in the seat's underside to accommodate the new screws.

Cover faded or torn seats with circular bar stool covers or replace a dented frame to update the look.
References
Tips
The new swivel seat may turn harder than the old one at first. Swivels need some time to break in.
Writer Bio
Becky Lower began writing professionally in 2004. Her work has appeared in "elan" magazine, a northern Virginia publication, "Good Old Days" magazine, the "BGSU Alumni" magazine and on the website thenovelette.com. Lower has a Bachelor of Arts in journalism and English from Bowling Green State University.
Photo Credits
More Articles