How to Use Maytag's Electric Self-Cleaning Super Capacity Plus Oven
The Maytag Super Capacity Plus oven is a wall oven with a self-clean cycle and a larger oven well to allow for bigger pans and more oven racks than traditional ovens. Using the Super Capacity Plus oven is relatively simple but operation should be limited to adults and those familiar with large electric appliances. Never allow children or pets to play in or near the oven. There are some basic steps to operate the oven correctly and to ensure proper performance, including the use of the self-clean cycle.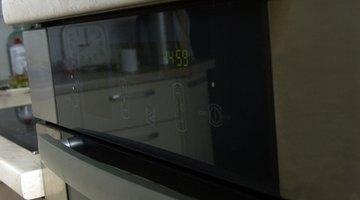 Set the clock by pressing the "Clock" pad and then the number pads to set the correct time of day. Press the "Clock" pad again to confirm.

Set the timer by pressing the "Timer One" pad and then the correct number pads for the desired amount of time to be monitored. Press the timer pad again to begin the timer and again to reset after the timer beeps to indicate the time has expired.

Press the "Bake" pad to prepare the oven for baking, followed by the appropriate number pads or "Autoset" to automatically set the oven at 350 degrees Fahrenheit. Press "Bake" again to start the preheating process. The "Preheat" light will illuminate while the oven is heating up and will go out when the oven is ready for use. Press "Cancel" to turn the oven off when baking is complete.

Press the "Broil" pad to use the broiler feature and "Autoset" once to set the broiler to "High" or twice to set it to "Low". Place the food in the oven and leave the door open slightly at the first stop. Press "Cancel" to turn the broiler off when finished.

Remove all pans, racks, utensils and food from the oven prior to using the "Self Clean" feature. Wipe down the inside of the oven and the oven door, avoiding the gasket, with a clean, damp cloth to remove any excess spills or food residue. Close the oven door and press the "Clean" pad, followed by the "Autoset" pad to set the clean cycle for three hours. Press "Autoset" again to increase the cleaning time for heavier soils. The "Clean" icon will appear and the "Lock" icon will flash, indicating that the oven is cleaning. Wait until the "Clean" and "Lock" icons have both disappeared after the self clean cycle before opening the door, as the oven must cool completely before the door will unlock.
Writer Bio
Meredith Jameson writes early childhood parenting and family health articles for various online publications. She holds a Bachelor of Arts in history from San Francisco State University.
Photo Credits
More Articles