How to Unlock a KitchenAid Electric Superba Range
KitchenAid Superba oven ranges, known as the Architect Series, have a locking mechanism on the control pad. The purpose is for child safety, self cleaning, or simply for blocking entry to the oven interior while it is in use. The locking mechanism has a designated keypad procedure to engage and disengage the lock and there is no shortcut to this process, as a safety precaution. Most KitchenAid control keypads and locking processes are similar. The specific directions for your range model can be found in the KitchenAid owner's manual.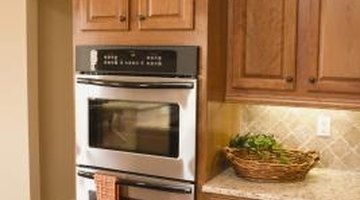 Depress the "Control Lock" or "Start/Control Lock" button on the keypad with your finger.

Hold down the pad for approximately 5 seconds until the words "Control Lock" disappear from the LCD display.

Allow the oven to finish cooling after running the self-cleaning function before attempting to unlock the oven range. As a safety measure the "Lock" function will not release until the oven completes the high-temperature cleaning cycle.
References
Resources
Tips
Some of the KitchenAid ranges will have a designated "Lock" button on the control panel, while others will have a label and picture of a lock printed "Start" button. While the placement may vary, the function and operation are the same.
Warnings
The "Off" key pad on the control panel will stop any function on the range save the lock mechanism, the clock and the timer. The only way the lock can be controlled is through the lock and unlock process described here.
Photo Credits
Jupiterimages/Comstock/Getty Images
More Articles