How to Remove a Moen 14960
The Moen 14960 is a hexagonal diverter piece. The diverter comes as part of a hardware kit for most Moen sprayers that attach to the sink. Diverters can be ordered as a separate part, or as one part of an entire hardware replacement kit. Order your Moen 14960 by first writing down the model number of the sprayer and calling Moen customer service. The 14960 is a universal part, but it may be just as cheap to buy the entire replacement kit.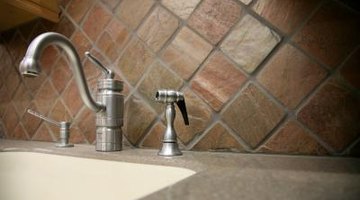 Step 1
Turn off the water to the sink by shutting off the house water mains, or by shutting off the water supply to the sink by turning the water valve.
Step 2
Remove the nut or screw that holds the sprayer in place on the faucet and lift up on it.
Step 3
Remove the nut under the sink that connects the hardware kit to the sprayer or soap dispenser, and lift it out of the sink assembly.
Step 4
Unscrew the top two pieces of the hardware assembly and remove the washer, using a pair of pliers, to expose the Moen 14960.
Step 5
Unscrew the 14960 with a wrench or pair of pliers and replace it with a new diverter. Reassemble the sprayer.