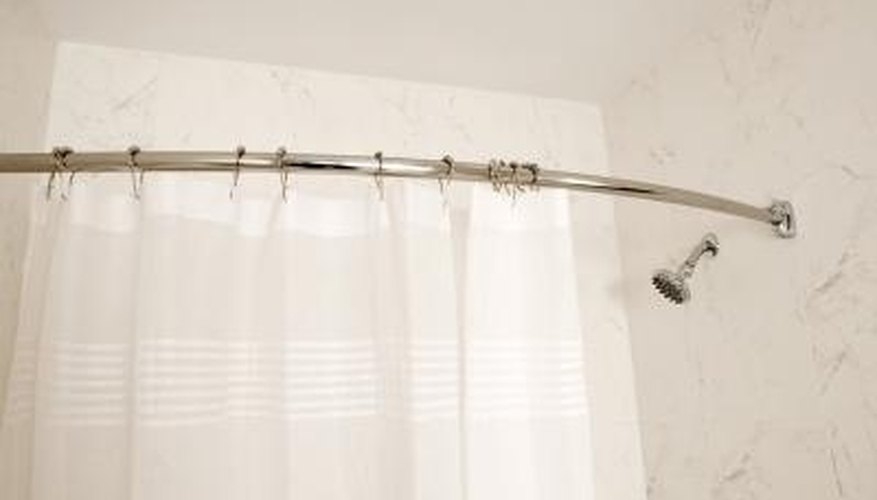 Installation of a curved shower rod is no more difficult than installing a standard shower rod, but the curved rod will provide between 6 and 10 inches more shoulder room. The curved rod is only slightly longer than a standard rod, so there's no need too purchase a new shower curtain. Curved rods are also known as crescent rods.
Remove your old shower rod. Patch the screw holes with Spackle, then smooth the Spackle with a putty knife. Allow the Spackle to dry, and sand any rough spots. Paint over the patched area.
Use a pencil to mark where the new brackets will go. Measure carefully to ensure that your new shower rod is level on both ends.
Install the new brackets about 3 inches toward the inside of the tub. The extra 3 inches will ensure that the shower curtain will be easy to tuck inside the tub, keeping your bathroom floor dry. Although the curved shower rod can be installed at the same height as the old rod, you can adjust it a bit higher or lower, if desired. Check to be sure that the shower curtain will be long enough to accommodate the change in height.
Install the new brackets, using the hardware that came with the curved shower rod. Use a screwdriver or drill and make sure the hardware is secure.
Assemble the curved shower curtain according to the directions on the package. Install the curved shower rod on the new brackets. Place the shower curtain on the new curved shower rod.
Things You Will Need

Spackle
Putty knife
Paint
Pencil
Tape measure
Screwdriver (or drill)
Tip
Curved shower rods can be purchased online or at most hardware or home renovation stores.