How to Recycle Light Fixtures
Instead of throwing out old light fixtures, you may donate them to thrift stores, community programs for low-income people or groups such as Habitat for Humanity, which all rely on donations to keep their programs running. Another way to recycle old light fixtures is to turn them into decorative or functional pieces for your home. Sometimes a simple coat of paint can update an existing light fixture. Or turn an old light fixture into a candle holder. A fresh coat of paint and removal of the lamp shade or cover may create an interesting decorative piece.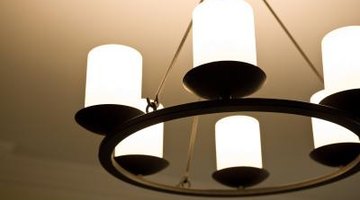 Step 1
Place the light fixture on a work surface. Remove the globes or shades from the light fixture by unscrewing the set screw and pulling out the light covering.
Step 2
Unscrew the bulbs from the light fixture. Sand the surface of the light fixture with 120-grit sandpaper to prepare the surface for primer.
Step 3
Spray the fixture with metal primer, and allow the primer to dry at least four hours.
Step 4
Paint the fixture with metal spray paint in the desired color. Allow the paint to dry at least four hours.
Step 5
Insert the candle felt pads into each light socket of the fixture. Slide a candle into the socket. Adjust the amount of candle pads to create a snug fit for the candles.
Step 6
Clip the wires flush with the back side of the fixture with wire clippers. Mount the fixture with screws using the existing mounting holes to any wall where you want candles or candle lighting.
Check out this related video.
References
Resources
Writer Bio
Jonah Morrissey has been writing for print and online publications since 2000. He began his career as a staff reporter/photographer for a weekly newspaper in upstate New York. Morrissey specializes in topics related to home-and-garden projects, green living and small business. He graduated from Saint Michael's College, earning a B.A. in political science with a minor in journalism and mass communications.
Photo Credits
Jupiterimages/Photos.com/Getty Images
More Articles