Lights in One Room Won't Work
The electricity that powers a modern home runs through circuit breakers that "trip," or shut off automatically, when you try to draw too much power through them. A single circuit breaker can power one or more rooms, and it may control power outlets as well as built-in lighting. You can reset the breaker after it trips, but if the circuit remains overloaded, it will trip again. Unplug any electrical items on that circuit, such as portable heaters, refrigerators or vacuum cleaners. Once the lights work again, monitor the other appliances and find out which one overloaded your circuit.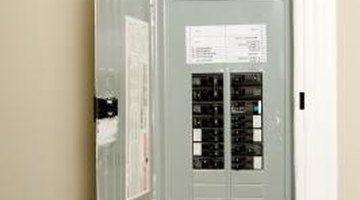 Locate the circuit breaker box for your home. In apartment homes, condos and rental homes, ask your landlord to help you locate the breaker box if you cannot find it yourself. Bring a flashlight in case the breaker box is in a dark area, such as an unwired basement or the room in which the lighting failed.

Check each breaker in the box to look for one that is off. Circuit breakers look a bit like sideways light switches. The switches should all be in the same position. If one is in the opposite position, it is off. Look carefully, because some breakers can trip without flipping all the way to the "Off" position. You may have one switch that is just slightly shy of the "On" position. Even so, it is stopping the power from getting to your unlighted room. Most breaker panels also have the switches labeled, so you may be able to find the switch that corresponds with the correct room simply by looking at these labels.

Turn the tripped breaker back on by flipping the switch into the "On" position. If it hasn't flipped all the way to the "Off" position, flip it all the way off, then back on. This should restore the lighting to your room.
References
Tips
Older homes may have fuses instead of circuits. The process is basically the same for a fuse box instead of a breaker box, but a fuse must be replaced, rather than reset. Unscrew the old fuse and replace it with an identical new fuse.
Writer Bio
Anne Hirsh has been writing and editing for over 10 years. She has hands-on experience in cooking, visual arts and theater as well as writing experience covering wellness and animal-related topics. She also has extensive research experience in marketing, small business, Web development and SEO. Hirsh has a bachelor's degree in technical theater and English and post-baccalaureate training in writing and computer software.
Photo Credits
Jupiterimages/Photos.com/Getty Images
More Articles