How to Use a Hoover Steamvac Plus 1200
The Hoover Company manufactures a wide variety of vacuums and carpet cleaners, as well as accessories. Available online or in home retail stores, appliance stores or from other retailers, the Hoover SteamVac Plus 1200 is designed to heat water and a special cleaning solution in order to lift ground-in dirt and debris from carpets and other surfaces. Operating the Hoover SteamVac Plus 1200 is relatively easy but should only be done by adults familiar with operating large home appliances to avoid risk of injury.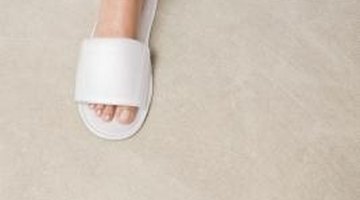 Unplug and turn off the SteamVac cleaner. Press down on the solution tank handle and pull forward to remove it from the machine.

Turn the solution tank cap counter-clockwise and lift up to remove. Turn the cap over and use as a measuring cup to fill with Hoover brand carpet cleaning solution to the "Fill" line. Pour the cleaning solution into the cleaning tank.

Fill the solution tank to the "Fill" line with hot tap water. Turn the cap over, place on top of the solution tank and turn in a clockwise motion to close. Place the solution tank into the SteamVac unit and push on the tank handle until the tank snaps into place.

Turn the speed selector to "Lo" for gentle cleaning or "Hi" for normal carpet cleaning. Plug the SteamVac into a power outlet and turn on. Step on the handle release pedal and lower the handle slightly.

Squeeze the trigger on the handle to dispense the hot cleaning solution onto the carpet and slowly pull the SteamVac back and forth over the area to be cleaned. Repeat again over the same area without depressing the spray trigger. Continue over the entire surface area to be cleaned.
Writer Bio
Meredith Jameson writes early childhood parenting and family health articles for various online publications. She holds a Bachelor of Arts in history from San Francisco State University.
Photo Credits
Jupiterimages/Comstock/Getty Images
More Articles