How to Design Your Home Exterior in Virtual
Whether you're planning a complete exterior makeover or wondering what a new color would look like on your home, a virtual simulator can make the design process easier. Virtual simulators offer you the ability to select various design elements and then preview an image of what they might look like on your home. In a virtual environment, you can let your creativity flow without the fear of making costly mistakes.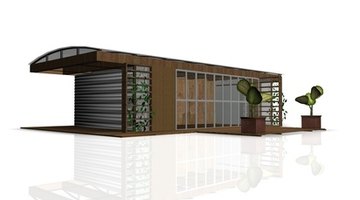 Change the exterior color of your house with Color-a-Home, from Better Homes and Gardens. Color-a-Home is a web-based application that lets you paint nearly every exterior surface on a house. Choosing your home's style from the menu options loads an example photo to work with. From there, you select an exterior surface to paint. Choices include walls, roof, chimney, trim, shutters and front door. There are several color options for each paintable surface, which grants you the freedom to be as adventurous as you wish.

Try Alside Design Showcase for a more advanced virtual design experience. Much like Color-a-Home, Alside Design Showcase allows you to change your home's exterior color with a broad range of shades to choose from. In addition to painting, you may also modify your home's siding material, soffits, downspouts and window mantels. You can even add various architectural accents for extra curb appeal. Alside Design Showcase uses 3D virtual images instead of real photographs, making it easier to customize to your own specifications.

To modify almost every aspect of your home's design, opt for a total home-makeover program such as Plan3D. Plan3D's interactive virtual interface puts you in total control of the design process, right down to the smallest detail. Start by building a 3D replica of your house from the ground up. Once you have re-created your current home, you can make major changes such as adding an additional story, building a new porch or reconstructing your driveway. Alternatively, you can make minor improvements such as changing your landscaping or adding a sidewalk. Plan3D is free to use for as long as you like, but if you want to save your designs, a paid membership is required.
References
Writer Bio
Heather Kimbrell began writing professionally in 2009. Most of her work is featured online, where she publishes health and technology articles. She is a certified medical assistant and a part-time PC technician. Before pursuing a medical-assisting career, she received information technology training from Cisco Networking Academy. Kimbrell earned an associate degree in medical assisting from Fortis College of Montgomery, Ala.
Photo Credits
More Articles