How to Decorate Around an Air Conditioner
Window air conditioning units effectively cool your living room or even your whole house during the hot summer months. However, these units can be an eyesore and detract from other furnishings. It is not difficult to camouflage or hide the unit so that visitors to your home can focus on the interior and not the unsightly air conditioner. Most homes only require the use of the window air conditioning unit during three or four months of the year, yet it is inconvenient to remove it from the window. Disguising the unit or drawing the eye to other features is an uncomplicated way to remedy this decorating dilemma.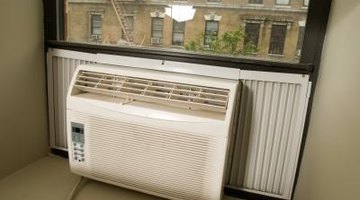 Step 1
Paint the front of the air conditioner the same color as your walls. This will help camouflage the unit.
Step 2
Install a coordinating panel to the front of the air conditioner unit. Many air conditioners come with interchangeable panels that coordinate with the wall paneling or in colors that are similar to your wood trim or wall color.
Step 3
Place a room divider or decorative fabric screen in front of your air conditioning unit when you are not using it. This is a clever way to hide the unit and it is uncomplicated to move when you need to use the air conditioner.
Step 4
Set an occasional table in front of the window that holds the air conditioner. Place a decorative lamp, large ginger jar or other decorative knickknack in front of the air conditioner. This draws the eye to the decor instead of the unattractive air conditioning unit.
Step 5
Build or hire someone to construct a custom-made console cabinet that you can close when the air conditioner is not in use. This adds an attractive architectural feature to your home and blocks the look of the unit.
Step 6
Install a decorative cornice or use eye-catching drapery fabric to distract the viewer from the air conditioning unit. These can be in place even while the air conditioner is in use if you use tiebacks for the draperies.
Writer Bio
Chelsea Fitzgerald covers topics related to family, health, green living and travel. Before her writing career, she worked in the medical field for 21 years. Fitzgerald studied education at the University of Arkansas and University of Memphis.
Photo Credits
Jupiterimages/Photos.com/Getty Images
More Articles