How to Assemble a Folding Grocery Cart
The folding grocery cart comes in either a two-wheeled or four-wheeled model for carrying large loads of groceries and other supplies. The total weight carrying capacity varies from 100 pounds to 150 pounds, depending on the model. Different folding grocery cart models are made of canvas, water resistant materials, metal or wire mesh. Some grocery carts are pre-assembled before shipping, but other models require light assembly. No special tools are required.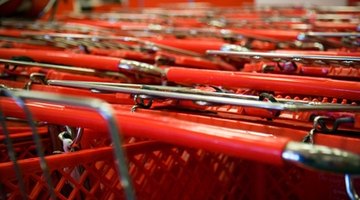 Extend the metal frame and position the handle in an upright position.

Move the handle lock over the support bar and lock the handle into position.

Remove and discard the black plastic shipping caps on the wheel axle. Slide the wheels over the axle and lock into place.

Push the button on the center cap of the wheel to lock the wheels onto the axle.
Writer Bio
Meg North has written professionally since 2008 as an online copywriter for the Sturbridge Yankee Workshop. She also published a short story in "The Maine Scholar." North has a Bachelor of Arts in media writing from the University of Southern Maine.
Photo Credits
More Articles