How to Hook Up a 2-Stage Thermostat
A 2-stage thermostat is just like a single-stage thermostat but with additional heating and cooling methods. It also requires more wires. In a 2-stage thermostat system, the first heating or cooling method starts and runs for a programmed amount of time to reach a desired programmed temperature. When the run time completes for the first heater or cooler, it stops, and the second heater or cooler kicks on for a programmed amount of time. Installation is very similar to that of a one-stage thermostat.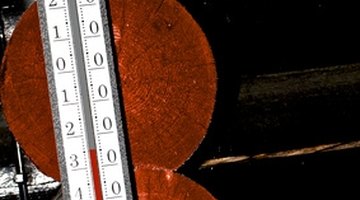 Cut the power to the heating and cooling system at the circuit breaker.

Pull or unscrew the body of the existing thermostat from the wall. Detach the wires that connect the thermostat to the household wiring by untwisting the wires from one another, and removing any wire caps and electrical tape. Remove the faceplate if one exists by taking out the screws that hold the faceplate in the wall.

Install the faceplate of the new 2-stage thermostat.

Connect the wires of the 2-stage thermostat to the household wires. Connect the red wire to the "R" terminal of the thermostat; the brown wire to the "W2" terminal; the black wire to the "C" terminal; the yellow wire to the "Y" terminal; the green wire to the "G" terminal; and the white wire to the "W" terminal. Twist the wire connections together, wrap them in electrical tape, then add a wire cap.

Install the body of the thermostat to the mounting plate on the wall. Depending on the model, press the body to the mounting plate until it snaps into place, or screw it clockwise to tighten it to the wall.

Turn on the power to the heater and cooler at the circuit breaker.
References
Tips
If aligned appropriately, the holes from the old faceplate can be reused for the new faceplate.
Writer Bio
Kim Sarah has been a writer since 2000. Her work has appeared on NECN, WCTR-TV3 and in the "Torch" university newspaper, among other publications. Sarah received a Bachelor of Arts in communications from Worcester State University and a Master of Arts in journalism from Roosevelt University. She is also studying nursing and computer science at Indiana State University.
Photo Credits
nordic thermometer image by photographer dk from Fotolia.com
More Articles