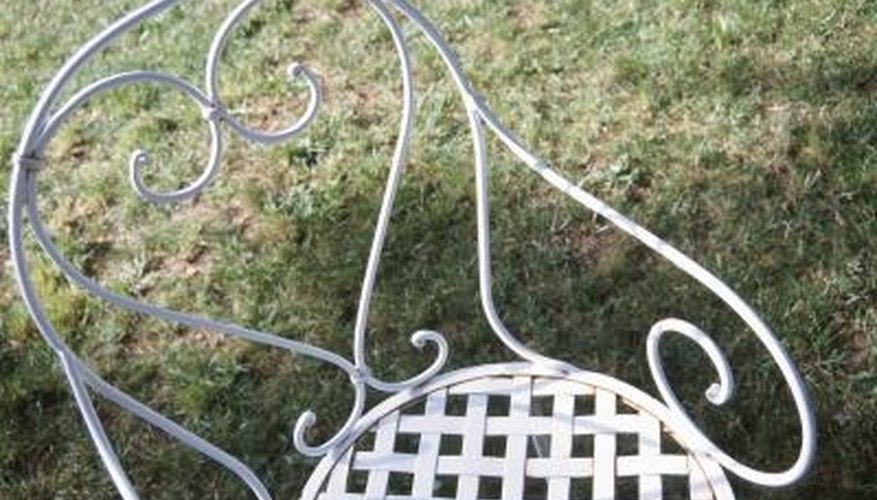 Wrought iron garden furniture offers a stability and weight that keeps the furniture in place and usable for years. Wrought iron furniture may be painted white, black, green or other colors to fit any outdoor décor. A drawback of iron furniture placed outdoors is that can it rust from exposure to the weather. Through proper care and maintenance, rust on external garden furniture can be avoided.
Clean the furniture to remove all dirt and grime before putting the furniture away for the season. Squirt liquid dishwashing detergent, the type for washing dishes by hand that is formulated to cut through grease, into a bucket of warm water. Wash all surfaces. Use a brush, if necessary, to reach into crevasses. Rinse and then wipe off the water. Let the pieces air dry in the sun.
Apply one to two coats of liquid or paste wax designed for use on cars or boats. Buff the wax to a shine as directed by the manufacturer. Repeat the cleaning and waxing process about mid-summer.
Relocate the furniture to a protected area over the winter, like a basement or garage. If no protected area is available and the furniture must remain outdoors, elevate the furniture on bricks or cinder blocks to avoid the legs resting in standing water. Secure a waterproof cover over the furniture, ensuring the wrap prevents any water penetration.
Things You Will Need

Bucket
Dish detergent
Sponge or rag
Automobile or marine wax
Tips
Outdoor furniture built with non-rusting material, like vinyl or wood, may have hinges or springs that could rust. Keep the furniture protected from rain and periodically lubricate the metal pieces to keep them rust-free and functional.

If furniture is already showing signs of rust, remove the rust with steel brush or fine grade steel wool dipped in vinegar. Then, apply a rustproof primer and re-paint.