Under-Mount Woodworking Vises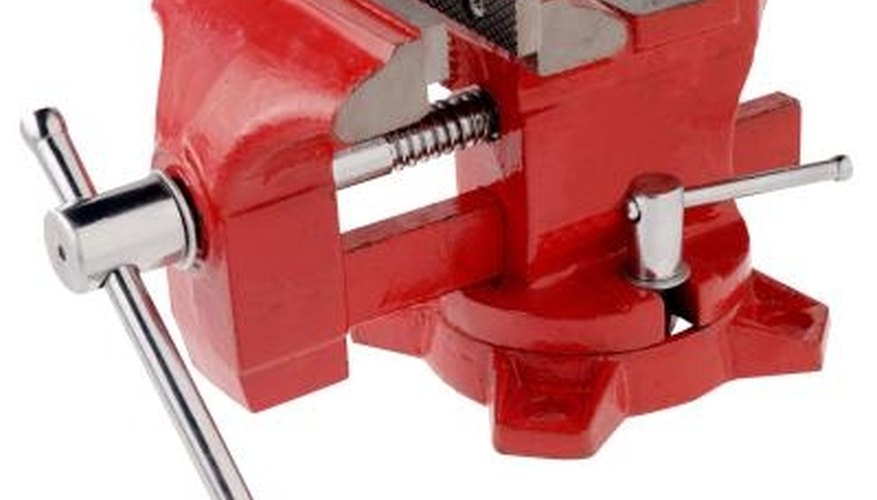 Adaptable to most any workbench, a bench vise in available for a variety of types and purposes including woodworking, metalworking and even a portable vise. Bench vises are generally easy to mount on your workbench. Some models have convenient features such as a quick-release jaw, toed-in jaw and pop-up dog.
Place the vise at the front edge of your workbench. If you are left-handed, position it toward the right and toward the left if you are right-handed. A vise may include wooden jaw liners that protrude beyond the edge of the vise. By placing the vise at the edge of the workbench, it accommodates these liners.
Position the tops of the wooden jaws flush with the top of the workbench or just slightly below, approximately 1/2 inch. If necessary, place a spacer block between the underside of the bench and the body of the vise.
Use washers and lag screws to fasten the vise if your bench top measures 2 inches or more in thickness. Countersink the screw heads and plug the holes to prevent work and tool damage.
Use carriage bolts to secure the vise onto a bench top less than 2 inches thick. Install the bolts and tighten with washers and nuts. As with lag screws, countersink the heads of the bolts below the surface of the bench top and plug the holes.
Bench-Top Vises
Position the vice on an end of the workbench. The vice is commonly positioned on the left end of the workbench for right-handed workers.
Place the vise on the workbench and mark the locations of the holes through the bench base on the top of the workbench. Drill pilot holes about half the diameter of the lag screws that will be used to fasten the vise in place of workbench tops more than 2 inches thick. Drill holes the diameter of the carriage bolts used to hold the vise to thinner benches.
Tighten the lag screws through the holes in the vise. Use a wrench to tighten the lag screws in place or pliers and wrench to tighten a washer and nut to the carriage bolt. Place the carriage bolts so the nut and extended end of the bolt is under the bench to prevent scraped knuckles.
Things You Will Need

Lag screws
Carriage Bolts
Tips
Check the security of the vise on the work bench frequently to make sure it doesn't loosen. Also, occasionally lubricate the threads of the main screw and wax the guide rods.

Bench top vises can be bolted to metal benches. However, this makes for noisy working conditions if materials are hammered while in the vise.