How to Set the Time on a Pfaff Sewing Machine
Pfaff is a German manufacturer of sewing machines that provide a number of stitches such as embroidery, straight, zigzag and utility. These machines have a dual fabric feed and needle threader, which makes for easy sewing. The timing on your Pfaff sewing machine should be automatically set when you take the sewing machine out of the box for the first time. However, you may find that you need to adjust the timing of the feed motion if it is not set accurately to the manufacturer's specifications.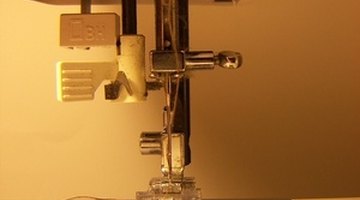 Remove the needle from its resting place. Turn the handwheel forward to set the needle bar at its lowest position.

Put the spacer (63-102600-18) over the needle bar and push it up against the needle bar frame. Put the needle-rise clamp (00-870 137-01) onto the needle bar and tighten it lightly. Place the 2 mm feeler gauge (00-870 136-01) onto the needle bar with its cutout placed above the needle-rise

clamp on the sewing machine.

Loosen the needle-rise clamp and push the 2 mm feeler gauge tightly up against the spacer. Adjust the knurled screw of the needle-rise clamp by tightening it. Turn the handwheel back and forth slightly to ensure that there is no play on the feeler gauge.

Remove the 2 mm feeler gauge from the needle bar. Turn the handwheel in the direction of the sewing until the needle-rise clamp rests on the spacer on the needle bar. Tilt the machine backwards so that you can see the feeding eccentric and connection rod. The lines on each of these parts must be directly opposite each other.

Loosen the three screws in the lower belt if the lines on the feeding eccentric and connection rod are not in direct opposition. Replace the needle-rise clamp and repeat Steps 1 through 4.
References
Writer Bio
Mary McNally has been writing and editing for over 13 years, including publications at Cornell University Press, Larson Publications and College Athletic Magazines. McNally also wrote and edited career and computer materials for Stanford University and Ithaca College. She holds a master's degree in career development from John F. Kennedy University and a bachelor's degree from Cornell University in counseling.
Photo Credits
More Articles