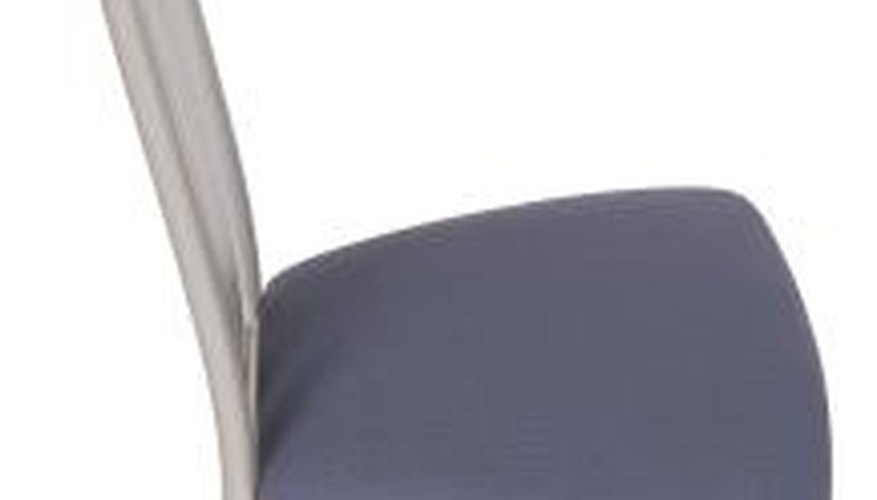 Purchase the chairs for their shape and structure, which are not easily changed. The seat covers can be updated to match your home's decor or fit your personality with a simple upholstery project. For the novice upholsterer, it is ideal to begin with dining room chairs. The project is less intensive than recovering a stuffed chair or a sofa, allowing the hobby upholsterer to practice techniques and learn how to work with fabric.
Flip the dining room chair over to expose the underside of the seat. Use a screwdriver to carefully remove the screws from the dining room chair.
Gently pull off the original upholstery fabric and batting.
Cut a piece of upholstery foam about 1/2 inch larger than the dining seat on all sides. Spray the wooden seat with spray adhesive. Center the foam on the right side of the seat and press down.
Unroll the new fabric face-down on the work surface. Place the fabric removed from the seat on top of the new fabric. Use it as a pattern to cut out the new seat. Cut the new piece about 1/2 inch larger than the original, to ensure it properly covers the new padding.
Place the foam-covered seat face-down on the new fabric piece. Wrap the fabric back to the back side of the seat, as you would wrap a present. Push a staple into the center of the top edge.
Flip over to ensure the fabric is facing the correct direction and is smooth. Staple the center of the remaining edges, pulling taut as you work.
Cut small slits, about 1/4 inch long in each corner. This will help prevent the corners from puckering. Pull one corner taut and secure with a staple. Staple the remaining edges.
Staple all around the backside of the seat. Trim off any excess fabric, leaving a 1/8-inch seam outside the stapled edges to prevent unraveling. Place the seat back on the chair and screw it back in place.
Things You Will Need

Screwdriver
Needle-nose pliers
Cup
1-inch polyester foam
Scissors
Spray adhesive
Upholstery fabric
Staple gun
3/8-inch upholstery staples
Tip
Work on one chair at a time. Over time, screws may become worn and its best to secure the new seat cover with the original hardware.