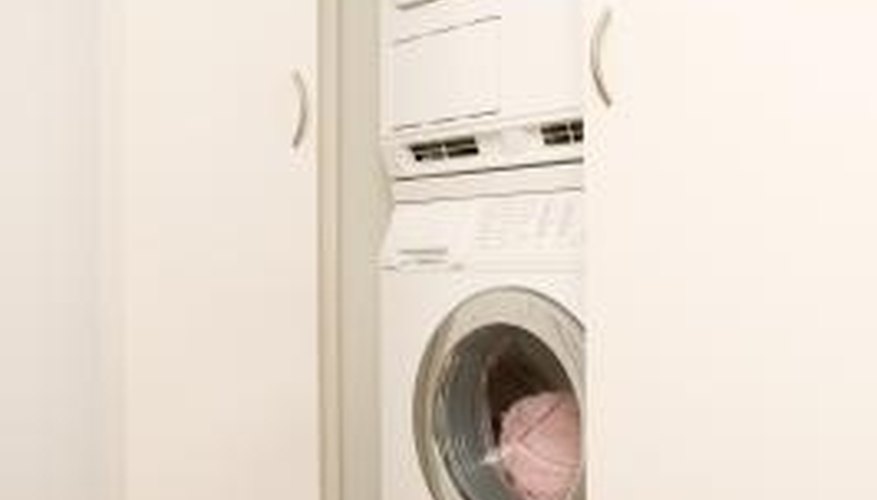 There are a number of ways to hide the machines when not in use, but their enclosure should harmonize with room surroundings. Do avoid placing a washer and dryer or stackable unit in a main bathroom, if at all possible. Consider installing this laundry space enclosure, instead, in a kitchen hallway or back entrance foyer, for example. Select the best placement to fit with managing the laundry during family activities. Route new plumbing or electrical wiring, if needed.
Look at enclosure options. Sketch various ways to hide the machines. Draw a floor-to-ceiling closet around the units with a louvered door, for example. Plan to build a hinged countertop over the units that lifts upward against the room wall, as another choice. Draw a waist-high cabinet covering on rollers that is open on the back as a possible choice, too. Roll this cabinet over the machines to hide them when not in use.
Install framework to support a closet covering. Use 2-inch by 4-inch lumber boards to build an actual closet around the units. Install drywall inside and outside the closet space and hang double doors or louvered doors. Build shelving in the top part of the closet to store detergents and folded towels. Choose this option if the washer and dryer are located in a sizable room or hallway.
Construct a fold-down countertop to hide only the top surfaces of the machines. Use standard countertop particle board material to create the counter. Install laminate countertop material to match other kitchen or bathroom surfaces. Buy heavy-duty hinges to attach the unit to wall framing. Align the countertop to fit on the same level as other counters in the room.
Use colors wisely throughout the room. Paint the walls white and install white vinyl flooring, for example. Use lime green for the countertops and shelving to give the room an artistic look. Combine neutral colors only for a coordinated look as well. Build the enclosure to hide the washer and dryer and to also fit well with surroundings instead of standing out too much.
Keep the entire laundry space neat. Add wall cabinets in the room or shelving with lots of matching baskets to hide clutter. Design and remodel the room to have a neat, clean feeling throughout. Devise a plan to quickly move laundry coming out of the dryer to another space for hanging and folding. Don't store dirty or clean laundry near the machines, or the room will take on a cluttered look.
Things You Will Need

Sketch pad
2-inch by 4-inch boards
Drywall
Interior doors
Louvered doors
Shelving materials
Countertop particle board material
Countertop laminate
Heavy-duty hinges
Paint