Instructions for Making Four Sided Placemats
Classic rectangular placemats work in any setting. Make bright floral placemats to brighten up a breakfast room, or match your placemats to the curtains for a traditional look in a classic dining room. Use fabric that matches the curtains and match the seam binding to the curtain's trim. Rectangular placemats are easy to make using pre-made packaged seam binding and pre-quilted fabric. Make square mats for a more modern look.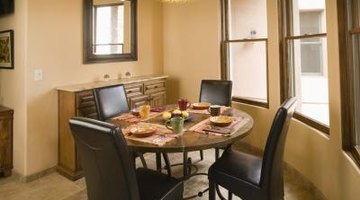 Cut a 14-by-18-inch rectangle of pre-quilted fabric.

Fold double-fold bias tape around the bottom edge of the mat, starting 2 inches from the corner. Insert the edge completely into the tape so that it touches the fold.

Miter the corner by bringing the inside edge of the tape all the way to the second edge of the mat and pinning it in place. Open the center fold in the tape as you fold it around the corner; this will make a 45-degree angled fold in the tape. Refold the tape so that the angle bisects the corner and pin the miter in place.

Fold the tape around the remaining sides of the mat, mitering all the corners. Pin the tape in place.

Fold under 1/2-inch on the end of the tape, cutting off any excess. Pin the fold in place.

Sew close to the inside fold on the tape, also catching the fold on the backside in the seam. Remove the pins as you sew.
Writer Bio
Camela Bryan's first published article appeared in "Welcome Home" magazine in 1993. She wrote and published SAT preparation worksheets and is also a professional seamstress who has worked for a children's theater as a costume designer and in her own heirloom-sewing business. Bryan has a Bachelor of Science in chemical engineering from the University of Florida.
Photo Credits
Jupiterimages/Comstock/Getty Images
More Articles