Silver Mist vs. Stainless Steel Frigidaires
Frigidaire is a well-known brand name for household and commercial appliances, including refrigerators. If you are shopping for a Frigidaire refrigerator, you should evaluate the capacity, features, specifications and cost before you buy.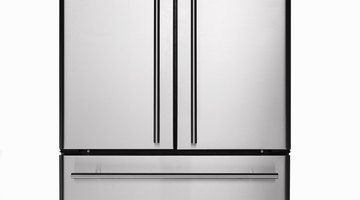 You must also consider what type of finish you want on the exterior of your refrigerator. Silver Mist, a topical paint that resembles pewter, and stainless steel are two common Frigidaire refrigerator finishes.
Cost
Opt for a Silver Mist Frigidaire refrigerator if you want to save money on your purchase price and shipping costs. A 27.8 cubic-foot Silver Mist refrigerator with French doors costs $2,399 before tax, according to Frigidaire. The same refrigerator with a stainless steel finish costs $2,599. A stainless steel refrigerator is heavier than a Silver Mist refrigerator, so your shipping expenses will generally be more unless you buy from a local hardware store that offers flat rate shipping or carries the item in stock.
Fingerprints
Choose a Silver Mist refrigerator finish for low-maintenance cleaning and minimal upkeep. The coating that covers and seals the paint on a Silver Mist Frigidaire refrigerator protects it against small scratches and fingerprints. Household cleaners will not smear or smudge the finish on a Silver Mist refrigerator. A stainless steel refrigerator shows unwanted fingerprints and often streaks when you clean it with regular household cleaners.
Durability and Construction
Select a stainless steel Frigidaire refrigerator for its solid construction and durability. "Stainless steel is extremely durable, stain-resistant and corrosion-resistant," states Calfinder Nationwide Remodelers. As opposed to a refrigerator with a Silver Mist finish, a stainless steel refrigerator is designed as one solid piece. As a result, it has fewer cracks to trap food particles, dirt and liquid from spills. But even though a stainless steel refrigerator is tough and durable, its surface is susceptible to small dents and scratches.
Reflection and Shine
Purchase a stainless steel Frigidaire refrigerator if you prefer a high amount of reflection and shine in your kitchen. Stainless steel has a mirror-like surface that reflects natural and artificial light. Stainless steel creates the illusion of a larger kitchen space, according to Calfinder Nationwide Remodelers. A flat, non-reflective finish such as Silver Mist does not visually expand the size of a room.
References
Writer Bio
As curriculum developer and educator, Kristine Tucker has enjoyed the plethora of English assignments she's read (and graded!) over the years. Her experiences as vice-president of an energy consulting firm have given her the opportunity to explore business writing and HR. Tucker has a BA and holds Ohio teaching credentials.
Photo Credits
Ryan McVay/Photodisc/Getty Images
Ryan McVay/Photodisc/Getty Images
More Articles