Pottery Barn Chair Insert Instructions
Let your child sit anywhere she wants to in the Pottery Barn Anywhere Chair. Kids will enjoy the versatility of lifting the chair and moving it to a special spot where they can sit and read or watch TV. You can purchase the chair from the Pottery Barn Kids store or online. Its materials are washable. You can personalize the chair to include your child's name on the front. If the chair is a gift, consider including a favorite book or movie.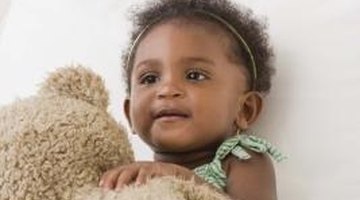 Unzip the the slipcover using the zipper located on the bottom of the cover.

Pick up the largest foam insert; it will be labeled "Backrest." Insert the foam upward into the slipcover with the words "Backrest Front" facing forward. This will be the back of the chair.

Reach into the slipcover at the point where the backrest meets the bottom of the slipcover and locate two flaps of fabric. These flaps will tighten around the base of the backrest and hold it in place.

Insert the round arm inserts into the slipcover. The slipcover is cut to accommodate the armrests, so push the inserts into the slipcover to fill out the fabric arms. Once you've inserted both arms into the fabric, locate the fabric flaps for both arms, wrap them around the insert and tighten.

Place the final foam insert labeled "Seat Top" into the area between the armrests. The words "Seat Top" will face upward.

Zip the slipcover closed. Adjust the cushions if needed to remove any wrinkles.
Tips
Remove the inserts before you wash the slipcover.
Writer Bio
Tabitha Harwell has been writing since 2008, with articles appearing in local publications and various websites. Her background includes a career in the fashion and beauty industry. Harwell holds a Bachelor of Arts in public relations.
Photo Credits
Jupiterimages/Comstock/Getty Images
More Articles