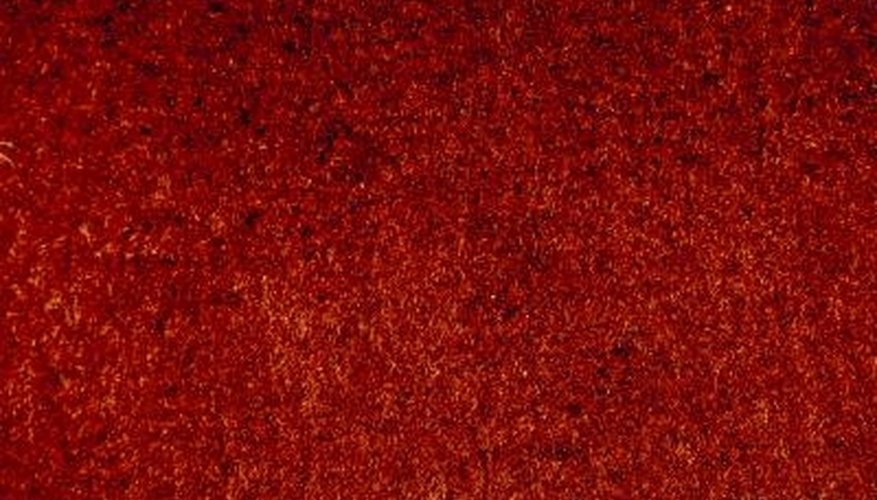 The cleaner uses hot tap water and multiple spinning brushes that operate at either high or low speed to lift the dirt out of carpets. The cleaner can be also be used on hardwood floors. The cleaning solution is released by pulling on the trigger in the handle and the vacuum suction in the cleaner removes the dirty water and stores it for disposal.
Add cleaning solution to the steam cleaner. Place the cleaner handle in the upright position and remove the cleaning solution tank by pressing down on the handle on the front of the tank and pulling the tank forward. Rotate the tank cap counterclockwise and lift up to remove. Turn the cap upside down to use as a measuring cup. Fill the cap to the fill line with a compatible cleaning solution. Pour the detergent into the tank and fill the tank with hot tap water.
Plug the SteamVac into an electrical outlet. Step on the pedal located at the bottom left side of the cleaner to turn the cleaner on. Step on the pedal located on the lower right side of the cleaner base to lower the handle to operating position.
Select the brush speed.The SteamVac has three agitator brush settings. The brush speed selector is located in the middle of the cleaner head. Choose "Hi" for normal cleaning of carpet and bare floors, choose "Lo" for gentle cleaning and choose "Off" for cleaning without brush action.
Clean the floors. Pull back on the trigger that is located in the handle, and move the cleaner in a straight line across the area that you are cleaning. Use overlapping strokes until the entire area is covered.
Empty the cleaner when it is full, or when the job is finished. Turn the cleaner off and disconnect it from the power supply. Step on handle release pedal and lower the handle until it rests on the floor. Rotate the latches on the front of the water recovery tank and lift the tank off of the cleaner. Unlatch the lid and remove. Empty the dirty water from the tank. Rinse the tank well and replace the lid. Place the tank back into the cleaner and rotate the latches to lock it in place.