Easy Way to Keep Folds in Long Drapes
Long drapery evokes a formal or elegant feel in a room and can help a short room feel taller, especially when the drapes are hung higher above the window than usual. For an even more dramatic or formal look, consider installing curtains with deep, crisp folds. "Training" your drapes refers to teaching the fabric which way to move when opened and closed. You'll need to keep the drapes open for at least three days while the fabric "learns" how you want the folds, but it's a simple method to keep folds in especially long drapes.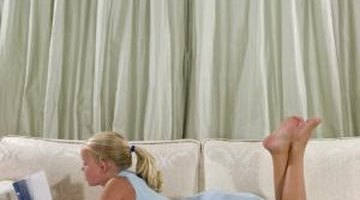 Install the drapes on the rod and open them all the way. Ensure that each penal has uniform pleats at the top of the rod. Push the fabric back and forth in a wave-like pattern until you are pleased with the folds.

Train the new drapes with a band made from something such as a loosely tied piece of fabric, paper and tape or a piece of cling-wrap. The band will keep the fabric slightly folded together. Tighten the band a little tighter than the desired results.

Move down 30 to 36 inches and ensure the folds are still going the correct way. Attach another band around the fabric.

Repeat the checking of folds and banding process all the way to the bottom of the drapes.

Allow the bands to stay on the panels for at least three days to allow the fabric to learn which way to move. Remove the bands and test the drapes for their folds. Reapply the bands as necessary.
References
Tips
Vacuum the curtains monthly with the brush attachment to remove accumulating dust between the drapery folds.
Press or iron the drapes to reinstate the pleats any time you launder the drapes. Turn the fabric wrong-side up to prevent damaging the fabric with the hot iron. Apply bands again after laundering, particularly near the bottom and top of the panels as needed.
Writer Bio
Lauren Thomason has written professionally since 2011 for online publications such as eHow. She is an avid gardener and crafter, history buff and science experiment fanatic. She holds a Master of Science in elementary education and is pursuing a Doctor of Education from Liberty University.
Photo Credits
D. Anschutz/Digital Vision/Getty Images
More Articles