Assembly Instructions for a Coaster Metal Bed
The Coaster furniture company makes a wide variety of furniture in wood and metal. They have several types of metal beds, but most of the Coaster metal beds are twin bunk beds for children. Metal beds are more durable than wood when exposed to the abuse that young children can give furniture. It's easy to assemble the beds. They come in large pieces that screw in place. The beds come with the necessary wrenches and connecting materials and screws, along with touch-up paint in case of scuffs.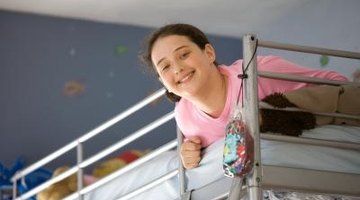 Use 12mm 1/4 inch bolts and a 4mm hex wrench to attach the flat top bunk and the bottom bunk rails to the two C-frame bed ends. The rails and the ends of the bunk slide into the raised notches on the frame. Screw a bolt into the pre-drilled hole on the inner side of the rails.

Attach a strip of PVC to the top of each end of the two bottom rails, about two inches from the C-frame.

Attach a latch to the bottom rail of each C-frame, using the open wrench to the inside bottom rail of each C-frame, the bottom of the "L" facing the back of the bed using two 5/16 inch nuts and spring washers on the inside of each latch. Use the 5mm hex wrench to screw in the 32mm 5/16 inch bolts and 8 x 22mm washers on the outside of the latch. Attach the top and bottom of the futon frame to the latches, using the same size nuts and washers, but use the the two 45mm bolts on each end of the frame piece.

Attach the hook to connect the bottom center of the two futon pieces. Use the 4mm hex wrench, 6 x 16mm washers and 1/4 inch 60mm bolts to attach the rails to the sides of the top bunk. Look for two pre-drilled holes at the end of each rail to attach the rail to the C-frame.
References
Writer Bio
Jill Kokemuller has been writing since 2010, with work published in the "Daily Gate City." She spent six years working in a private boarding school, where her focus was English, algebra and geometry. Kokemuller is an authorized substitute teacher and holds a Bachelor of Arts in English from the University of Iowa.
Photo Credits
Jupiterimages/Photos.com/Getty Images
More Articles