How to Fix Formica That Swelled Due to Moisture
Formica is a common laminate material used on countertops in kitchens and bathrooms. Formica is installed by attaching sheets of Formica to the surface underneath, usually wood. Due to the presence of sinks and liquids in kitchens and bathrooms, it's possible for water to get between the Formica and the surface to which it is attached. This causes bubbling in the Formica which, if left untended, can permanently damage or ruin the entire Formica sheet, requiring it to be replaced. Minor bubbling can often be repaired if it is caught early enough.
Removing Formica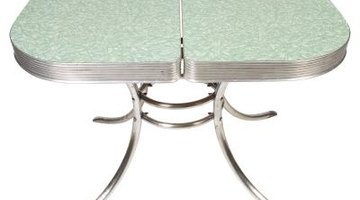 Slide the knife between the Formica and the countertop.

Slowly pull back the Formica, using the glue solvent as necessary

Apply pressure where the Formica is still in place to help provide leverage.
Repairing the Formica
Remove any dirt between the two surfaces and ensure the area is dry.

Coat both the counter surface and the underside of the Formica with contact cement.

Prop up the Formica with the dowel rods, keeping it from touching the counter surface.

Allow the contact cement to dry. Once dry, it will bond with itself, meaning the bottom of the Formica can be reattached to the counter surface.

Remove the dowel rods and slowly push the Formica back in contact with the countertop, paying special attention to push out any bubbles.

Place a heavy object on the Formica to ensure the contact cement bonds properly.

Leave the contact cement to dry for 24 hours.

Apply water sealant to the edges of the Formica to ensure no additional moisture gets in.
References
Warnings
Always wear safety goggles to protect from chemicals and Formica flakes
Writer Bio
Rebecca Kling is a Chicago-based performer and educator. She's a graduate of Northwestern University's Department of Performance Studies, a theater instructor around town and an independent performance artist. Her written work has been featured in Court Theater's "Review of Classic Theater," "Chicago IRL" issue #1. Kling is also syndicated through the BlogHer network.
Photo Credits
Hemera Technologies/PhotoObjects.net/Getty Images
More Articles