How to Seal the Parapets on a Stucco Roof
If you have a stucco parapet attached to your home, you've got a truly interesting architectural detail. A parapet is a short wall that acts as a border, coming out of the top of a balcony or roof. A parapet made of stucco consists of a porous, sand-based building material. Cracks in stucco are fairly common and often result from shoddy installation, shrinkage while drying, or settling naturally. Sealing stucco and filling those cracks could save you from having to make some really expensive repairs later on. You don't want large stucco cracks in your parapet to crumble and cause debris to fall from the top of your home.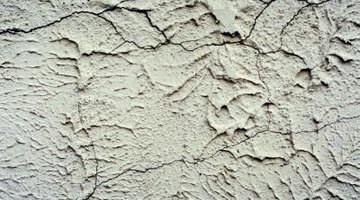 Brush off any crumbling stucco around the cracks in the parapet with a utility brush. Insert the tip of the syringe of a tube of silicone acrylic caulk into the crack.

Push down the plunger of the tube of silicone acrylic caulk while dragging the tube downwards to distribute the caulk evenly throughout the length of the crack.

Push the caulk deep into the caulk by using a trowel. Wipe off the excess caulk with a damp sponge. Allow the caulk to dry for at least 24 hours.
References
"Ask the Family Handyman;" Reader's Digest Association; 1999
Tips
Once the caulk is dry, you can paint the sealed cracks to match the rest of the surrounding painted stucco.
However, if your stucco is already unpainted, it's best to leave it that way because unpainted stucco generally needs substantially less maintenance than painted stucco.
Writer Bio
Lane Cummings is originally from New York City. She attended the High School of Performing Arts in dance before receiving her Bachelor of Arts in literature and her Master of Arts in Russian literature at the University of Chicago. She has lived in St. Petersburg, Russia, where she lectured and studied Russian. She began writing professionally in 2004 for the "St. Petersburg Times."
Photo Credits
NA/AbleStock.com/Getty Images
More Articles