Traditional Korean Mattress
Despite so many choices, including pillow-top mattresses, thick foam slabs that guarantee sleepers their partner won't be disturbed even if they jump up and down on their side of the mattress, and dial-a-number mattresses, many people still complain loudly about aches and pains when they awaken each morning. Perhaps that's why contemporary versions of traditional Korean mattresses have been winning over minds and backs.
Asian Mattress Styles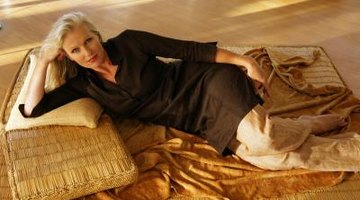 Cultures along the Asian rim have survived for thousands of years without structural architecture for beds. In China, heated bed platforms made of stone called k'angs kept people warm at night thanks to the fire burning under the bed. In Japan, bedroll-style mattresses were placed on the floor, while a unique Korean sleeping system combined the best of all worlds: pairing the "yo" (mattress) with heated floors.
It's About the Floor
Cold Korean winters were tolerable thanks to the "ondol," a floor warmer. Some were fairly primitive -- cloth sacks filled with heated charcoal that slid under the mattress while other homes had more sophisticated under-floor heating systems that channeled heat from a stone fireplace through the floor with clay pipes. In either case, an ibul, the traditional Korean quilt, was added to the bed plus a pyogae (wheat husk) pillow. These days, hot water conduction through piping systems built into floors does the job more efficiently.
Group Sleep
In addition to ondol-warmed floors, family members slept together, thus yos were big and roomy. Homes were traditionally small and separate bedrooms were a rarity. Fireplaces served as family gathering places and mattresses were placed near it. Each evening, mattresses were rolled out and placed on the areas of the floor that radiated the most heat. In the morning, bedding was re-folded and put away so typical household activities could be conducted without tripping over the yos.
Color and Beauty
Traditional yos are still made in Korea, much as they have been for centuries. If you visit a manufacturer or browse Korean yo websites, you'll see that the designs can be stunning. Almost all designs feature two coordinated fabrics: one covers the center of the mattress while the second border pattern surrounds it. Yos typically come with matching linens featuring identical patterns on between six or seven matching pillows.
Sleeping on Stone
In the 1970s, Korean bed makers began marketing stone beds, a hybrid of the ondol/yo and modern technology. These beds look like coffee tables with headboards and are made of jade, mica, quartz and topaz. Heating coils built into these mattresses take just a few moments to heat up, even in the dead of winter. In 2006, Furniture Today reported that stone beds were being shipped to the U.S. as their popularity grew.
References
Resources
Writer Bio
Based in Chicago, Gail Cohen has been a professional writer for more than 30 years. She has authored and co-authored 14 books and penned hundreds of articles in consumer and trade publications, including the Illinois-based "Daily Herald" newspaper. Her newest book, "The Christmas Quilt," was published in December 2011.
Photo Credits
Goodshoot/Goodshoot/Getty Images
More Articles