Daybeds vs. Sofa Beds
Whether you live in a studio apartment or just don't have a designated room to accommodate guests, daybeds and sofa beds offer sleeping and seating space with just one piece of furniture. Daybeds are three-sided frames made for twin-size mattresses. A sofa bed is a couch with a pullout bed, which folds up and fits inside the sofa frame when not in use. Both options have benefits and drawbacks.
Seating Comfort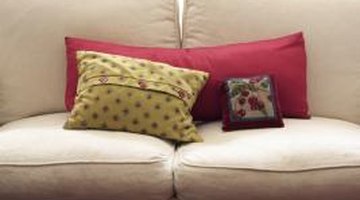 If you'll primarily use the piece for seating, sofa beds are the more comfortable option. Though sofa beds don't have the spring system of a regular sofa, sitting on them feels much the same.
The depth of a daybed is typically greater than the seating depth of a sofa. While you can minimize that depth by adding pillows, they don't provide the same back support as a sofa back with cushions. If your daybed hides a trundle bed underneath, the seating height may be greater too. Combined with the depth, your feet may dangle uncomfortably when you sit upright on a daybed.
Sleeping Comfort
Though sofa beds feel better for sitting, daybeds are typically more comfortable for sleeping. A daybed frame holds a real mattress. Depending on the frame, it may also require a box spring. While mattress quality and comfort varies, most regular mattresses provide more support than the thin, folding mattresses used in sofa beds. Even with high-quality sofa beds, you sometimes feel the frame through the mattress. If you host guests frequently -- or if you're choosing your own bed for a studio apartment -- opt for a daybed.
Aesthetics
When they're not pulled out, sofa beds look like regular sofas. You can give a daybed a sofa-like look with the right bed treatment and pillow arrangement, but few people will mistake it for a real sofa. Unless your sleeping needs outweigh aesthetic considerations, a sofa bed looks better -- especially if you're placing it in your primary or only living space. Save the daybed for a home office, seldom-used den or another area where you don't entertain.
Flexibility
Though sofa beds are usually the better-looking choice, daybeds are more flexible. If you're sleeping just one person, you don't have to move the coffee table to unfold the mattress. If you keep a trundle under the daybed, you can sleep two guests who'd feel awkward sleeping together in a shared sofa bed. At 75 inches long plus the frame, daybeds take up less space than most sofas, so you have more placement options. Because a daybed is a real bed, you can use it in a guest or child's room if your space needs change. Buying a new cover and pillow shams costs less than having a sofa bed reupholstered, so it's less expensive to get a new look if you redecorate. You can also remove the bed treatment for cleaning accidental spills.
Writer Bio
Leah James has been a full-time freelance writer and editor since 2008. With more than a decade of experience in interior decorating, she frequently writes about home design. She studied English literature at Lyon College.
Photo Credits
Goodshoot RF/Goodshoot/Getty Images
More Articles