The Best Walls for an Unheated Porch
Enclosing a porch requires materials that work with the home's architecture. Take time to design a well-planned structure even if the porch is on the back of the house. A typical three-season porch that is unheated works well for dining, sleeping or entertaining. Choose exterior materials that give good curbside appeal and interior materials that create unique ambiance. Strive for a mountain cabin or lakeside feeling, for example.
Match House Design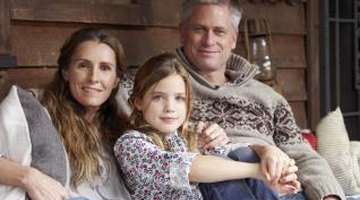 One option is to use siding that matches the house to enclose the porch. Use tongue-and-groove or vinyl siding, for example. Consider a combination of materials, such as brick and stucco, to fit the home's design, too. As you plan the exterior wall covering, try to create a porch design that looks original to the house. If the porch enclosure looks like an addition, it can negatively impact the home's market value.
Seal and Insulate
Insulation and well-sealed walls will help to conserve heating and cooling. Air moving out of the porch enclosure may pull heating and cooling from the house interior. Insulation with a high R-value, such as 33, will help keep the porch at an even temperature. Make sure the walls are sealed tightly to conserve heating and cooling. Use caulking to seal seams in overhangs and around windows, too.
Mix Interior Materials
Interior wall coverings can include a variety of materials. Stacked stone, cedar boards, plaster board or drywall can be used in interesting combinations. Create lower walls of stacked stone that are accented by upper walls made of rustic boards. To keep the porch enclosure from looking too dark, include one or two walls of plaster material or drywall painted white or cream. Paint boards a light color as well.
Incorporate Glass
Large windows and glass walls will create an inviting look. Lots of glass will work well for an enclosed porch, if the ceiling of the porch and walls are well insulated. It's possible to enclose some of the porch with glass blocks. Energy-efficient rollout windows work well, too. Any choices for wall materials must look appropriate from all exterior angles, so use openings for glass that look appropriate in size to blend seamlessly with the home's exterior design.
Create Appropriate Foundation
Use bulkier materials on the bottom of the exterior walls only, as one option. For example, you can install stacked stones or brick on the bottom half and vinyl siding on the top half. Whatever you use, however, must harmonize with the foundation of your house. For example, install stacked stone on the foundation area of your house to blend with stacked stone.
References
Resources
Writer Bio
Judi Light Hopson is a national columnist for McClatchy Newspapers. She is founder of Hopson Global Education and Training and co-author of the college textbook, Burnout to Balance: EMS Stress. She holds a degree in psychology from East Tennessee State University, and has been a professional writer for 25 years.
Photo Credits
Lucas Allen/Lifesize/Getty Images
More Articles