Ideas for Native American Table Decorations
Decorating a table with traditional Native American colors, cultural emblems and fabrics is easier than you might think. Native American décor is found in many items throughout American culture, including Southwestern décor. After a little research to get a picture of the colors and patterns common to Native American handcrafts, you are ready to come up with creative ways to decorate a table with a Native American theme.
Table Linens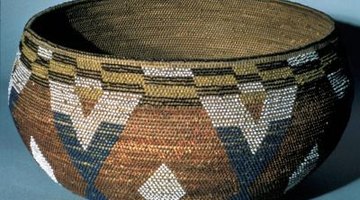 Table linens provide the foundation for your Native American table decorations. You might prefer a plain wood surface to display your decorative items, but a tablecloth and napkins only require a visit to your closets or fabric store. Find fabric with the familiar geometric Aztec or starburst patterns in earth tones, such as orange, brown, red and dark blue. Purchase an inexpensive quilt to use as a tablecloth or a piece of fabric to use as a table throw or runner over a solid-colored tablecloth. Make cloth napkins from fabric squares. Use place mats with Southwestern or Aztec patterns.
Pottery
Pottery is one example of Native American creativity in making beautiful objects for everyday use. Use inexpensive clay bowls, vases and other pottery or vessels painted with Native American colors and symbols to hold napkins, silverware, flowers or rolls. The placement of the pottery around the table adds to an atmosphere that feels authentic. Discount stores, including dollar stores, often sell items that display Native American artistic themes.
Baskets
Baskets are another hand-crafted item Native Americans make for daily use. Use small woven, colorful baskets to hold rolls or a fresh vegetable display for the centerpiece. Find plain baskets and add colored cloth throughout the weaving, attach bright geometric swatches or stain portions of the basket in the patterns used for Native American baskets. Use large baskets to hold glass serving dishes and maintain the rustic theme.
Lighting and Centerpiece
Make special candleholders or a centerpiece using items from nature. Assemble and secure twigs into a structure for embedding tea lights for use as a centerpiece. Make a centerpiece with fall flowers, leaves and pine cones with a tall candle in the center. Tie together a bunch of wheat stalks and dried grasses. Your centerpiece is the place to add small versions of the more typical Native American symbols, such as a bunch of feathers or a small dream catcher. Use different items to fashion into rustic candleholders, such as small wood pieces with cutouts for tea candles.
References
Writer Bio
Gail Sessoms, a grant writer and nonprofit consultant, writes about nonprofit, small business and personal finance issues. She volunteers as a court-appointed child advocate, has a background in social services and writes about issues important to families. Sessoms holds a Bachelor of Arts degree in liberal studies.
Photo Credits
Photos.com/Photos.com/Getty Images
More Articles