Traditional Bavarian Decor
Whether you've visited the German state of Bavaria, have Bavarian roots or have simply seen picturesque images of the area, you may want to re-create the cozy, German atmosphere in your own home. Famous for Oktoberfest, gaily painted beer steins, fine Bavarian china and the Bavarian Alps, Bavaria lends itself easily to a colorful look that you can incorporate in one or more rooms of your house for an authentic ambience.
Furniture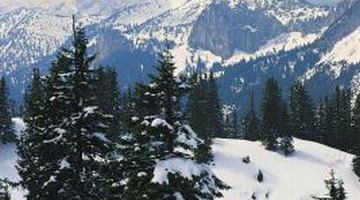 Most Bavarian homes are filled with pieces of furniture made from solid wood and decorated with intricate scrollwork and hand-painted images. Select furnishing for your home that have details such as rolled edges, carved designs and claw feet. Choose sofas and chairs covered in velvet for your living room and stand-alone wardrobes for your bedrooms. Opt for a large curio cabinet in which you can display fine Bavarian china, pewter plates or festive-looking beer steins. Search antique stores for the real deal, or purchase reproductions when they fit your budget better.
Floors and Windows
Bavarian homes often have beautiful hardwood floors. If you've covered your wood floors with carpets, rip the carpet out, sand and polish the wood floors, and display them proudly. Place floral-patterned throw rugs in vibrant colors in strategic spots, or choose multicolored handwoven rag rugs secured with double-sided tape. For your windows, opt for lacy white curtains in a variety of patterns or fabric curtains edged in Bavarian lace needlepoint. Decorate the outside of your windows with colorful wooden shutters and window boxes overflowing with flowers.
Themes
Select an Oktoberfest theme for your Bavarian decor. Display a row of clear glass or painted ceramic beer steins on a wooden shelf over the fireplace and figurines of women and men wearing the traditional dirndl dresses and knee-length lederhosen. Or choose a Bavarian chalet look, particularly in a room with a fireplace. Install dark wood beams, real or faux, and hang framed images of the Bavarian countryside. Opt for real photographs or attractively framed travel posters.
Decorative Items
Bavarian homes are often filled with collectible treasures. Build a collection of Hummel figurines to display. These endearing statues of small boys and girls dressed traditionally while they explore the Bavarian countryside are found in many homes throughout Germany and particularly in Bavaria, where they originated. Ensure that you have an authentic Bavarian cuckoo clock as well. Pick up one of these handcrafted timekeepers on a trip to Bavaria, or order one via the Internet. The musical chimes and the chirping cuckoo transport you to the Bavarian Alps once an hour on the hour.
References
Writer Bio
Amie Taylor has been a writer since 2000. Book reviews, gardening and outdoor lawn equipment repair articles and short fiction account for a handful of her published works. Taylor gained her gardening and outdoor equipment repair experience from working in the landscaping and lawn-care business she and her husband own and operate.
Photo Credits
Comstock/Comstock/Getty Images
More Articles