How to Arrange a Living Room With Three Entrances
If your living room has three entrances, it may be a little more difficult to give it a warm, inviting look due to all of the open space. You can make the room a comfortable gathering place for friends and family through the use of furniture placement and decorative items, however.
Separate Seating Arrangements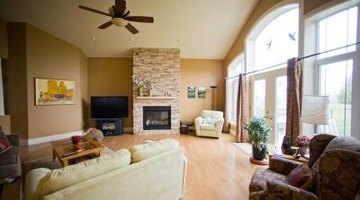 One of the most important things to consider when decorating a living room is how to group the furniture. Create a space that encourages family members and guests to interact with each other by creating comfortable seating areas. You can place a sofa and coffee table near one entrance, two reading chairs and a small table near another, and a love seat and a standing lamp by the last one. Make sure that the chairs face the room's focal point, such as a TV or fireplace.
Central Arrangement
If your living room features three entrances, such as doorways to a den, to a kitchen and to a bathroom, arrange all of your furniture in the center of the space to create a cozy environment. A central arrangement is especially ideal if you don't have much furniture to work with. Arrange a couch and love seat to form an "L" shape in the center of the living room, with furniture backs to the entrances. Set a coffee table in the center of the seats, and display a TV on a stand against a wall in front of the furniture. Decorate the perimeter of the room and any open corners with plant stands or bookcases.
Rugs
You can use plush floor rugs to define different areas of the room and to create a warm look near each entrance. Rugs featuring coordinating colors or designs will also work to give a large living room a cohesive look. For instance, place matching rugs near each separate seating area, or set one large decorative rug under the coffee table in a room featuring a central arrangement.
Distinct Areas
Take advantage of the living room's multiple entrances by dividing the space into three distinct areas. Create a television-viewing area, complete with a comfortable sofa, a side table for snacks and an entertainment center near one entrance. Turn the space near another entrance into a work area by setting up a computer desk and chair set. Make the area near the third entrance a place for relaxing and reading by including a reclining chair, a bookcase and a standing lamp.
Writer Bio
Elizabeth Arnold has written for a wide variety of publications and websites. Her experience includes writing travel features for "Recommend" magazine and packaging marketing copy for both Metro-Goldwyn-Mayer and Warner Bros. consumer products. Recently, Arnold was a staff writer for "Special Events" magazine. Arnold studied English at the University of Wisconsin-Milwaukee.
Photo Credits
Jupiterimages/Photos.com/Getty Images
More Articles