What Are the Points Called on Wrought Iron Fences?
Cemeteries are among the best places to find wrought-iron fencing. Families and churches used ornamental iron for durable and attractive fencing material, often with openwork. The spearheads or points on a wrought-iron fence add to the beauty as well as provide additional security to keep animals and individuals from entering the area. Although solid-point designs are most common, hand-wrought twists and curls may grace the tops of fences from the 19th century.
Ornamental Fence Tops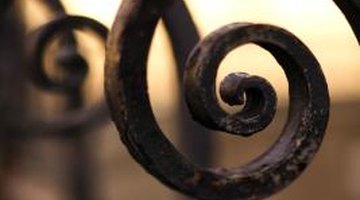 Some ornamental iron fencing, particularly Art Deco or geometric designs, feature a spearhead or point at the top. Like the point or knob on a lamp, this piece is the "finial," regardless of the shape. A finial is an architectural device to add a design to emphasize the end, corner or tip of a shape. The ends of wrought-iron curtain rods are finials as well. Chairs, bedposts and clocks use finials made of the same product as the item. Wrought-iron fencing finials have characteristic shape names, usually a common name for the shape.
Finial Shapes
Folklore holds that architectural finials near rooftops kept the witches from landing. The spearhead may have a sharp point or a ball tip. The steep pyramid is common at the top of a spearhead shape and the 45-degree pyramid may form the tip without the spearhead. Shapes such as leaves, curls, crosses, fleur-de-lis, tridents and spades are common points on wrought-iron finials.
Cast Iron and Wrought Iron
Cast Iron fencing is a commercial product, while the blacksmith creates wrought iron. You may know cast iron as hand-wrought iron. Cast iron is hard and breaks easily, and has a high carbon content. Wrought iron contains less carbon and is malleable with blacksmith tools and heat. Wrought iron predates steel production by centuries, often visible in pictures of castles throughout Europe. Imperfections often identify wrought iron, as many of the hand-forged bends are not identical. You can also see where the smithy has pounded the metal into shape.
Wrought Iron Care
Aluminum and galvanized steel fences have taken the place of hand-wrought iron in the 21st century. The aluminum products don't rust and production costs are reasonable. Galvanized steel has more of a wrought-iron look and is actually superior in strength and durability to wrought iron. Wrought iron will rust, and requires painting and upkeep for continued beauty. Many fences that appear to be wrought iron today are mild steel, a product created by melting cast iron to remove the carbon and slag. Mild steel has greater strength than wrought iron but is less resistant to corrosion. Whether your fence is wrought iron, galvanized steel or mild steel, the care includes regular painting and checking for rust. You may need to sand to remove the rust and use a primer prior to fence painting.
References
Writer Bio
Linda Richard has been a legal writer and antiques appraiser for more than 25 years, and has been writing online for more than 12 years. Richard holds a bachelor's degree in English and business administration. She has operated a small business for more than 20 years. She and her husband enjoy remodeling old houses and are currently working on a 1970s home.
Photo Credits
Thinkstock/Comstock/Getty Images
More Articles