About Bed Rails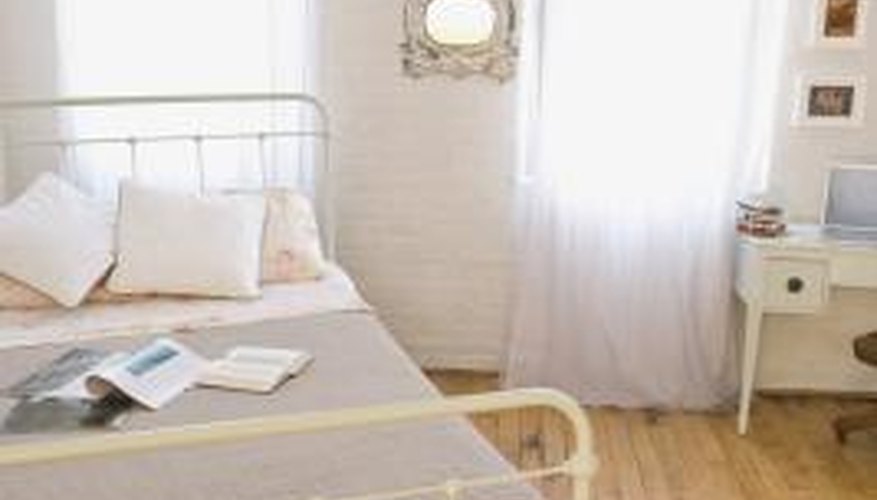 If your bed rails don't have any way to attach footboards, you still have options. Learn about the different parts of the bed and what you need to do to adapt existing rails to accommodate a footboard.
Bed rails are long metal pieces that connect the headboard and footboard. Together, these make up the bed frame. The rails support the box springs along the sides. Footboard rails are bed rails that allow you to affix a footboard to them. While most standard metal bed rails have built-in headboard brackets, they do not include a place where a footboard can attach.
Footboard Brackets
Footboard rails, or more correctly footboard brackets, are metal pieces that affix to the foot end of the bed rails. They come in an adapter kit with bolts and nuts. The brackets provide a way to bolt the footboard to the rail, making it secure and strong. Order a footboard adapter kit from a bedroom furniture store or online.
Installing Footboard Brackets
Drill bolt holes in the bed rails at each end with a carbide-tipped drill bit. Attach one footboard bracket to the rail by inserting bolts into the newly drilled holes. Secure them with nuts. Repeat the process on the other rail. Align the footboard with the footboard bracket adapters, then bolt it to the rails.
Rail Extensions
When adding a footboard to an existing bed frame, you may find the box springs and mattress fit too snug against it. A bed rail extension kit includes two pieces of railing that can be bolted to the end of the bed rails, adding as much as 7 inches to the length of the rails. When you put on the rail extenders, bolt them to the rail, then attach the footboard brackets to the extensions.