Ideas for Remodeling an 8 X 6 Bathroom
A small bathroom must be well planned to utilize every square inch effectively. By installing main fixtures that are not oversized, all components will fit into the space well. However, the challenge is to create room for storage, moving around in the vanity space and drying off after a shower. The bathroom should work from the perspective of an adjoining bedroom or hallway, so begin the design with the interior door as the starting point.
Install a Space-saving Sink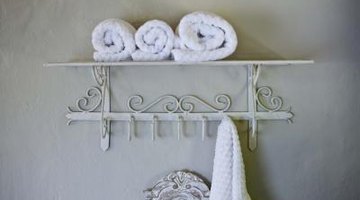 Using a pedestal sink to save space in a small bathroom is a good idea. Install the sink just inside the door to the left or right. One way to focus attention on the vanity area is by hanging an ornate mirror over the sink. To further emphasize the vanity space, install a wall sconce on each side of the mirror. The sconces, if spaced correctly, can make the vanity area seem larger.
Downplay Toilet Space
One way to place the toilet is to have it face the open door area. Another choice is to install it beside the sink in the corner. Install a toilet that doesn't make a lot of flushing noise, if possible, in such a small room. You can downplay the toilet in such a small space by installing a wall caddy for towels or interesting artwork over it.
Build a Shower Only
A good idea for a shower in such a small space is to place it in a corner. You might wish to use an opaque door laminated in plastic. Use a door that is only 4-feet high that is hinged to hang from shoulder to thigh level. A tiled shower that matches floor tile will blend well in such as small room. Don't use a glass shower door in case someone accidentally opens the main bathroom door during a shower. A shower door that matches other cabinetry in the room will look appropriate. Paint the room walls a pale brown, and use white paint for a wooden shower door, cabinets and baseboards.
Feature Upscale Tile
Always invest in high-quality tile in the bathroom. Install tile that is a light-sand color and heavily textured to prevent slipping on the bathroom floor. As an alternative to baseboards, use the tile as a baseboard that is at least 6 inches deep.
Plan Accent Pieces and Special Touches
Find ways to add special amenities and accent color to the room. Invest time in designing every detail, so the room looks upscale in every respect. You might, for instance, buy lime green towels and install a wall vase to hold artificial ivy. Purchase special light fixtures, small vases and a room rug that will give everything in the room a well-coordinated look.
References
Writer Bio
Judi Light Hopson is a national columnist for McClatchy Newspapers. She is founder of Hopson Global Education and Training and co-author of the college textbook, Burnout to Balance: EMS Stress. She holds a degree in psychology from East Tennessee State University, and has been a professional writer for 25 years.
Photo Credits
Jupiterimages/BananaStock/Getty Images
More Articles