Ceiling Medallion History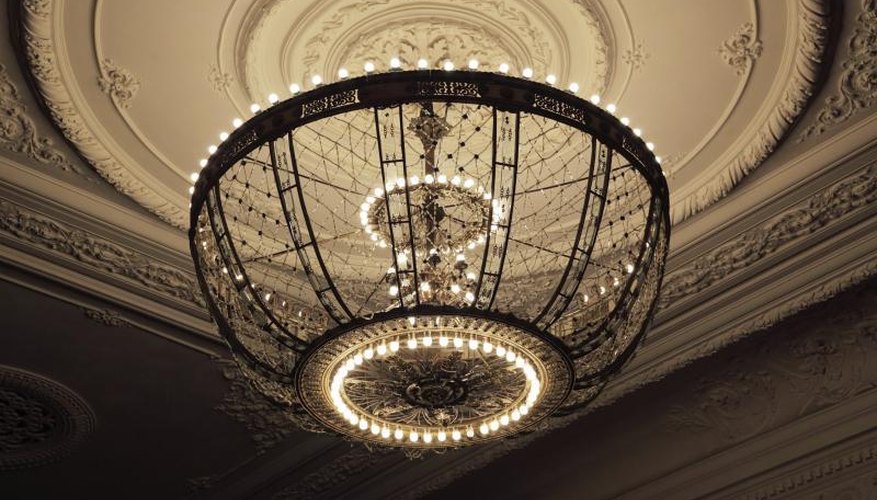 Ceiling medallions are common features in formal spaces such as dining or living rooms. Older homes with artistic architectural details often exhibit ceiling medallions. They are available in numerous sizes and styles to complement residential, cultural or commercial structures.
Ceiling medallions may have originated in Rome, Greece or the Middle East, eventually spreading through Europe. They were common in ancient Greek and Roman architectural structures. The medallions were made in relief, meaning the decorative designs were cut into wood, marble, iron and other metals, creating a raised surface. By the mid-19th century, the medallions were often made from plaster, which enabled them to be created through molds. Modern ceiling medallions are made from plaster or modern materials such as polyurethane, which mimic the traditional stone or metallic materials.
Ceiling Medallion Designs
Many medallion designs consist of a 4-inch opening for a chandelier or other type of light fixture. If no light fixture is used, decorative rosettes are available to fill in the hole. Large medallions bring attention to the ceiling, while smaller ones add a distinctive touch of visually-appealing decor. They generally range from 4 inches to 6 feet in length. Designs include simplistic carved lines, highly ornate floral patterns and scroll features. Ceiling medallions are available in round, square, diamond, oval, rectangle, triangle, hexagon, octagon, star and rosette shapes.
Two-Piece Ceiling Medallions
Some modern ceiling medallions come in two pieces to allow easy installation. Rather than taking down existing light fixtures and hardware to install the medallion, the pieces simply fit around them. The medallion pieces have an overlapping construction and fit seamlessly together, clipping into place. The seams are incorporated into the medallion design.
Damaged Antique Ceiling Medallions
Some older ceiling medallions made of plaster weaken or break over time. Restoration of an original is typically done by an ornamental plasterer. This specialist takes impressions of the existing plaster, then casts new plaster elements to seamlessly attach to the medallion with the help of a special adhesive.