What Is the Difference Between a Daybed and a Trundle Bed?
Daybeds and trundle beds are popular for their space-saving capabilities, and are often used in a child's room. There are several differences between a daybed and a trundle bed, with the most notable difference being that a trundle bed is actually two beds in one. However, they you can find beds that combine both features into one.
Style and Function of the Bed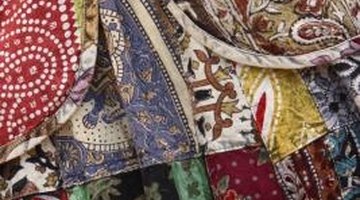 The industry defines a daybed as a bed that you can use for lounging or sleeping. It is typically open on one side and closed on the other three. During the day, you can cover the back of the bed in pillows and use it for seating for two to four people. At night, you can remove the pillows on the back and use it as a bed.
Trundle beds, on the other hand, often look like any other bed -- despite the fact that underneath the main mattress is another mattress that you can pull out. This allows for two separate beds that, when not in use, take up the same amount of space as one bed.
Sizing
Most daybeds accommodate a toddler or twin-sized mattress. Many cribs convert into daybeds so a child can use the bed during toddler-hood and early childhood. While some daybeds are made for a full-sized mattress, they are not common. Trundle beds are typically made for twin- or full-sized mattresses. In some case, the top bed may be full-sized, while the pull-out portion is a twin. Deluxe trundle beds may have two full-sized mattresses -- although these types of bed are not common.
Storage Options
In most cases, both daybeds and trundle beds use springs or platform slats in place of a box spring to support the mattress. Many daybeds provide storage underneath the mattress; shelving that you can use to house small items, books or toys are common, as are drawers for clothing. Because the underside of a trundle bed houses a mattress, storage is often minimal. However, both beds provide space-saving features in their own right.
Trundle-Style Daybeds
While standard daybeds do not include a second mattress, a trundle bed can be shaped as a daybed for the ultimate in space saving. Just like a daybed, three sides of the bed are closed off with railings, making it possible for it to be used as a couch during the day. However, the trundle bed is still located underneath the top mattress, providing sleeping arrangements for two or more people.
References
Writer Bio
Amanda Bell spent six years working as an interior designer and project coordinator before becoming a professional writer in 2010. She has published thousands of articles for various websites and clients, specializing in home renovation, DIY projects, gardening and travel. Bell studied English composition and literature at the University of Boston and the University of Maryland.
Photo Credits
Hemera Technologies/AbleStock.com/Getty Images
More Articles