Ideas for Floors for Playhouses
Children delight in the very thought of a play space separate from the house they live in, even if it is only a few steps from the back door. They will immerse themselves for hours in a world of their own and often beg to eat or sleep there. Choosing floors for playhouses is important because they will receive a lot of wear and tear. You will want something attractive, durable and easy to clean.
Paint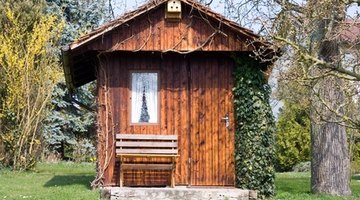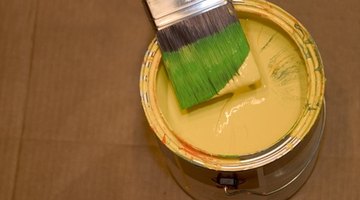 Whether a playhouse floor is wood or concrete, the simplest and least expensive treatment for it is paint. There are paints specifically designed for use on concrete and on wood. They are different, so choose the one that is right for your floor. Paint the floor with a couple of coats of the color of your choice. If you have a creative streak, add decorative stenciling or freehand designs to create the illusion of a rug or printed carpet. The possibilities are endless. You can create stripes, plaids or a flower-strewn meadow in colors that you or your children prefer. Seal and protect your work with two or more coats of polyurethane for added durability and ease of cleaning.
Peel-and-Stick Vinyl Tile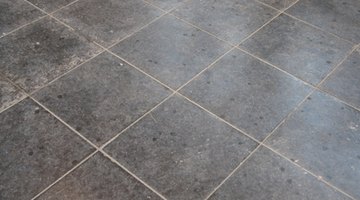 Peel-and-stick vinyl tile has opened up do-it-yourself to people who never thought they could tackle a flooring project. It is the ultimate DIY product and ideal for even a beginner. After following simple instructions on planning the layout, all you do, literally, is peel and stick. Do any necessary cutting with a pair of sturdy scissors; you do not need any special equipment. Tiles come in a wide range of colors and designs to suit whatever décor you have in mind. Vinyl tile comes with different thicknesses of wear layers, so consider those when selecting one for your playhouse floor. The thicker the wear layer, the higher the price--but also the longer the life of the floor.
Carpet Tiles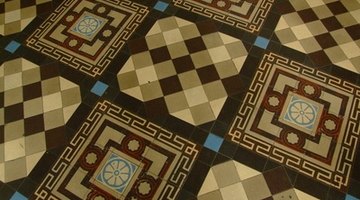 Carpet tiles are another excellent choice for floors in playhouses. They are warm in winter, and they will cushion any falls that might occur. They are easy to install on wood or concrete with a straightedge and carpet knife, and when accidents happen, the damaged tiles can be replaced without disturbing the rest. Mix or match colors to create your own unique color scheme or design, or use carpet tiles on a section of the playhouse floor to create the effect of an area rug. Unlike old tiles that were glued to the floor and very difficult to remove, new tiles are held in place by adhesive dots or strips and can be easily removed. Carpet tiles require no padding.
References
Resources
Writer Bio
Former teacher/real estate broker Margo Steele began freelance writing and editing in 1985, and has written for eHow Home and Garden, Trails Travel, Garden Guides and LIVESTRONG.COM. She also remodels houses, designs and sells jewelry, and is an avid gardener. Steele is a graduate of Louisiana Tech University with a Bachelor of Arts in English and a Master of Arts in speech communication.
Photo Credits
little house image by anna karwowska from Fotolia.com
yellow paint image by Jennifer Griner from Fotolia.com
Tiled floor image by Simon Amberly from Fotolia.com
Carrelage image by J-F Perigois from Fotolia.com
More Articles