Cottage Window Styles
Cottage-style windows connect the comfortably relaxed atmosphere of a cottage-style interior with the beauty and serenity of nature. Whether the sight is a simple garden or a grand vista, the window treatment enhances the view and offers a privacy option when necessary. Fabric and texture help define the interior design style through simple window treatments. Exterior window boxes may embellish the appearance of cottage-style windows inside and out. The look is casually charming.
Architectural Windows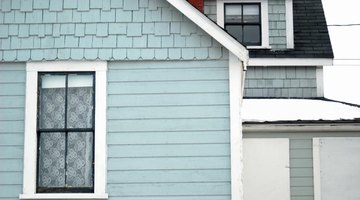 A classic New England cottage-style window consists of a double-hung window with two sashes, often of unequal size, and small panes. Divided windows are an old-fashioned style in which pieces of wood or vinyl seem to divide a window into additional sections, typically with four sections to a sash. English-style cottages feature tall, narrow windows arranged in bands. Casement windows, which open with a crank for easy control of air flow, are popular choices for this architectural style, although double-hung windows are used also. Craftsman-style cottages feature squarish windows with ample frames. Other window designs used in cottage-style architecture are dormer windows, bay windows and bespoke windows, which may be specially constructed with arched tops or multiple panes for custom installations.
Interior Windows
Cottage-style design uses an eclectic mix of old and new furnishings along with re-purposed architectural fragments and treasures from nature to create original, personal spaces. Effective curtain treatments are simple and classic. Use a nicely finished wooden pole for billowing sheers. Hang tailored panels with brass rings on a sparkling brass rod. Revisit informal short cafe curtains popular in '50s and '60s that fit right into the casual look of cottage style. Get creative and suspend curtains from a wooden oar or a canoe paddle. Provide nighttime privacy without obstructing the daytime view by installing Roman-style retractable shades. Add a decorative valance of natural materials like wild grapevine or bittersweet to punctuate a tailored curtain treatment. Control light with trim white plantation shutters.
Exterior Windows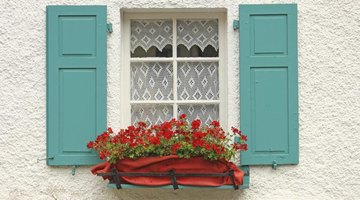 Shutters enhance the exterior look of cottage-style windows. Shutters and sashes look classic painted in neutral colors such as black, white or deep green, or they can become a cheerful and whimsical accent painted in bright colors. Window boxes planted with vibrant flowers and trailing vines add curbside color and appeal, and they improve the view looking out as well.
Fabric Favorites
Lace or eyelet curtains complement a storybook English- or French-style cottage, while linen, gauze or polished cotton is appropriate for a beach house. Large-scale checks or re-purposed quilts look charming in an American farmhouse-style cottage or a log cabin. Unbleached muslin is a safe choice to pair with any style cottage interior. Accent curtain panels with ribbon or braided tie-backs.
Comfortable Colors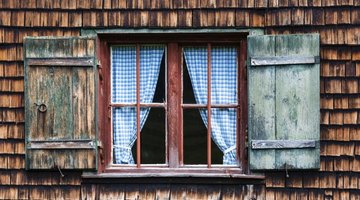 Attractive curtains coordinate with the interior color scheme. White is a classic color in cottage-style decor; its versatility makes it appealing in any type of room. Repeating colors used on other furniture assures compatibility and makes the window treatments an important design element. Successful color schemes relate to the style of the cottage. A romantic English or French cottage blushes with soft muted pastels, while a beach cottage or mountain getaway may repeat the blues, greens and yellows of nature. A farmhouse, ranch or a woodsy cabin looks cozy with rich, low-intensity reds and blues and creamy accents.
Pretty Things Up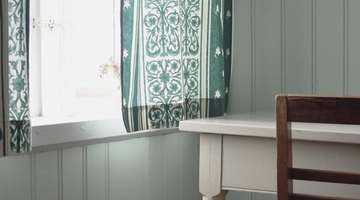 Informal patterns and textures reign in cottage-style decor. Stripes, checks and plaids are all effective in developing a stylish cottage look, especially when combined with toiles or softly drawn floral prints. To unify the effect, limit the number of patterns in any room to three, and try to repeat each pattern at least three times. Curtains, valances or shades in a pattern become a design focal point instead of mere background.
References
Resources
Writer Bio
Melanie Aves has more than 30 years writing experience. Aves coauthored four interior design color books, authored a book on Newport Beach, California, wrote newspaper features and currently writes monthly magazine features. She holds a Master of Arts degree, a certificate in interior design, and completed post-graduate studies in journalism.
Photo Credits
taden/iStock/Getty Images
Craig DAVIS/iStock/Getty Images
InnaFelker/iStock/Getty Images
jopelka/iStock/Getty Images
Pawel Worytko/Hemera/Getty Images
killerbayer/iStock/Getty Images
Queensbury/iStock/Getty Images
More Articles