The Best Victorian Exterior Paint Colors
In the late 1800s, the ornate approach known as Victorian style came into its own. Although Victorian homes vary by style, the basic characteristics remain the same throughout. Victorian homes are marked by steep-pitched roofs with multiple dormers, unique porches, detailed bracket work, fine gingerbread, shutters and windows of unique shapes and sizes, some with stained-glass panes. Whether painted in the vibrant hues of the painted ladies in San Francisco or in more subdued tones, Victorian houses stand out among plain Jane houses.
Authentic Victorian Palettes
Painting the exterior of a home built between 1850 and 1920, the Victorian Era, in authentic colors requires an understanding of the home's particular style. For instance, a Folk Victorian built in 1906 calls for a different color scheme than an Italianate Victorian constructed in 1853. Research is key to reproducing accurate color schemes for individual homes. Hire consultants versed in Victorian-era home design to offer advice on period appropriate house painting. The most common colors used when painting Victorian homes were moss green, slate blue, brown and yellow. People with a taste for flare employed colors such as purple, rich mulberry, ginger and mauve. Always consider the material to be painted and apply appropriate colors. For inspiration, peruse Victorian home magazines, take a driving tour of historical neighborhoods or surf the Internet for photos of Victorian homes.
Light Tones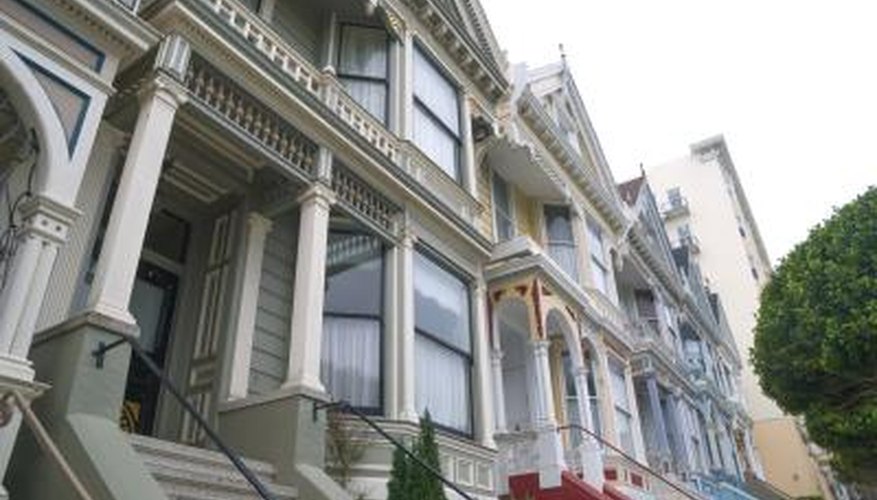 Pale shades of cream, green, blue, yellow and brown wear well on Victorian homes. Lighter paint colors do not fade in the sun as readily as dark colors. Pale colors age throughout the years with grace and beauty. Employ the triad method of painting, or painting with three colors, whenever possible. Draw the eye to decorative details by painting it in shades darker than the body of the house. For a display of color that surprises the onlooker, use the triad method of painting the main portion of the home, then sparingly add bold splashes of color on selected bits of trim. Create depth in the overall look of the house by painting window sashes a darker value of the color used to paint the main body of the house. Paint large portions of relief in colors that enhance the relief work and compliment the body of the house. Always select colors that complement the roof of the house.
Mauve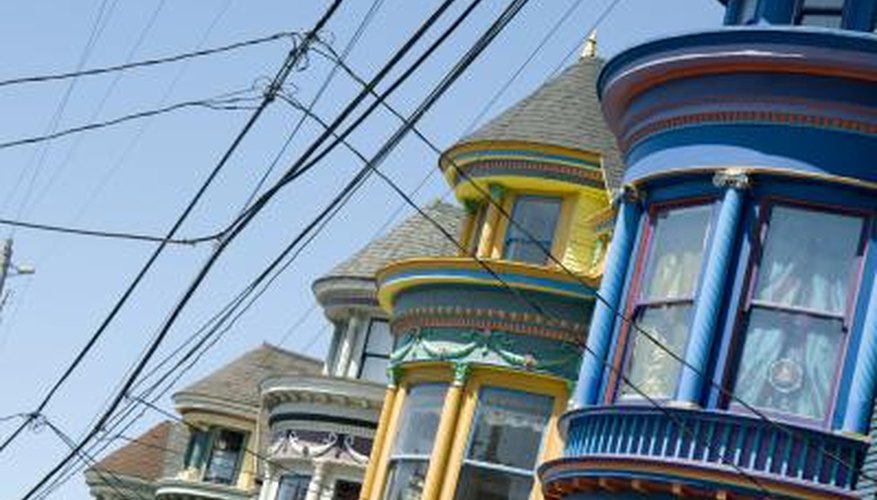 Although pretty, mauve is best employed for the decorative portions of the home. Try painting decorative trim and relief work in various values of mauve such as light, medium and dark mauve.
Jewel Tones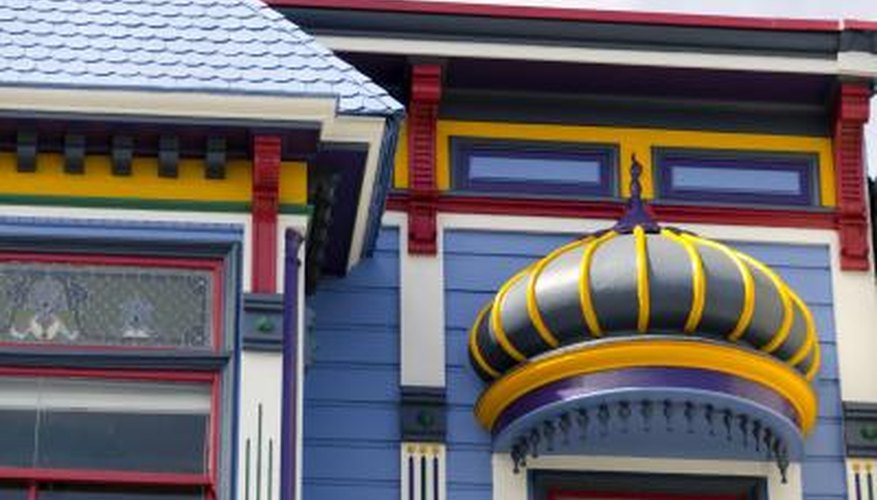 Jewel tones such as red, blue, green and deepest gold evoke a sense of opulence. Often used to enhance the finer points of Victorian house exteriors, jewel tones may overwhelm a house if not applied by an experienced hand. If painting the body of a house in a jewel tone, opt for a lighter shade, then add darker shades of the same jewel tone on trim work and architectural details. Select paint colors that enhance the house's overall design and the architecture of neighboring homes. A suggested color scheme for royal blue and green is to paint the body of the house deep royal blue, the wide expanses of wooden shingles and other decorative details pale blue, then paint the trim deep green followed by mauve pink paint on gingerbread work. Remember that paint dries darker when painted on a house.
Vibrant Painted Ladies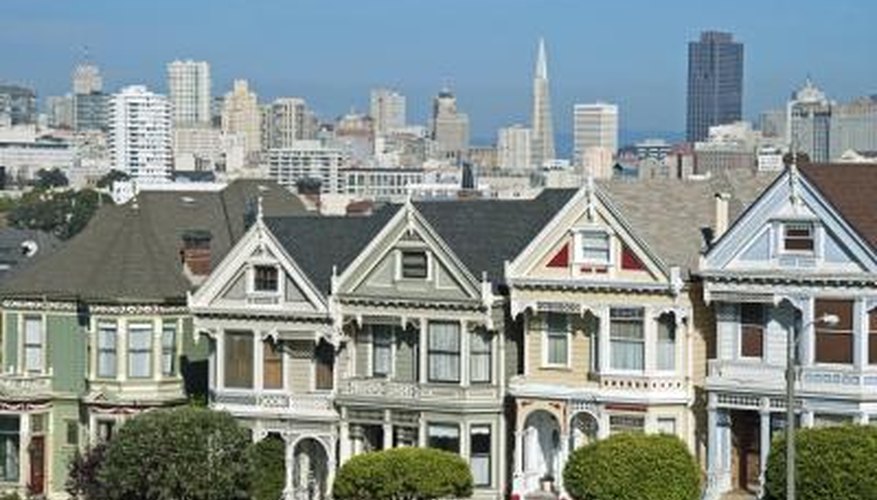 Painted ladies, a term coined by authors Elizabeth Pomada and Michael Larsen in their 1978 book "Painted Ladies," grace the streets of San Francisco. Painted ladies in Pacific Heights, Victorian Cow Hollow district and the Haight in San Francisco are among the most striking known to exist. Painted ladies boast dazzling colors in varying hues of purple, red, yellow, blue, green and even chocolate brown. To emulate the exteriors of painted ladies, select a trio of vibrant colors for the largest portion of the house. Paint the architectural details of the house in colors that harmonize with the main color scheme or employ one or more of the main colors to embellish the details. Some painted ladies sport as many as 11 paint colors on their architectural details. The key to giving a Victorian house a painted lady look is to make the architectural details pop with color. When in doubt, hire a professional painter experienced in painting historical homes, namely painted ladies.
The Monochromatic Victorian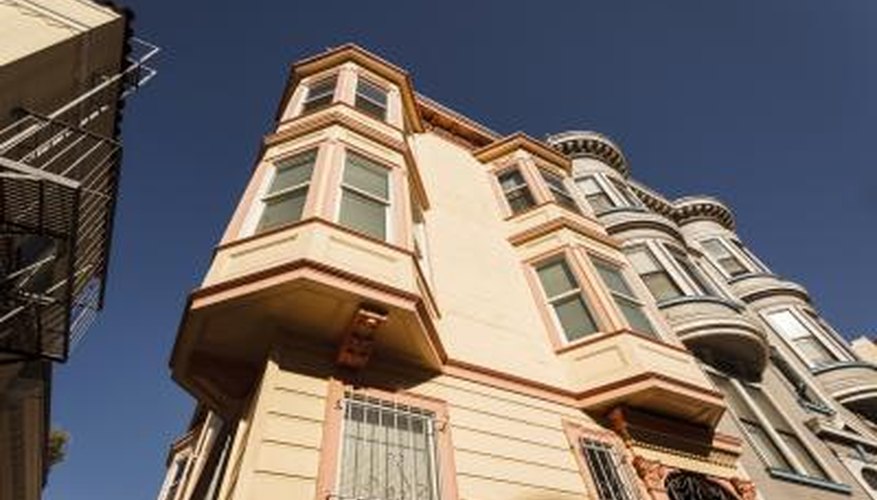 Monochromatic simply means one color. Victorian homes painted in a monochromatic color scheme illustrate quiet charm that catches the eye of passers-by. Create a monochromatic color scheme by choosing three values of one color. Choose light, dark and medium green, for example. Paint gingerbread, window trim and other architectural elements to highlight their fine detail. For a conservative monochromatic scheme, pick lighter shades. Monochromatic schemes in blazing shades may appear bizarre if the color scheme is not chosen and applied correctly. Keep the colors of surrounding homes in mind when deciding on a color scheme. A badly painted Victorian quickly becomes an eyesore in its neighborhood. When uncertainty prevails, call in the professionals for recommendations. Professional painters offer good advice on painting homes.
Four-color Scheme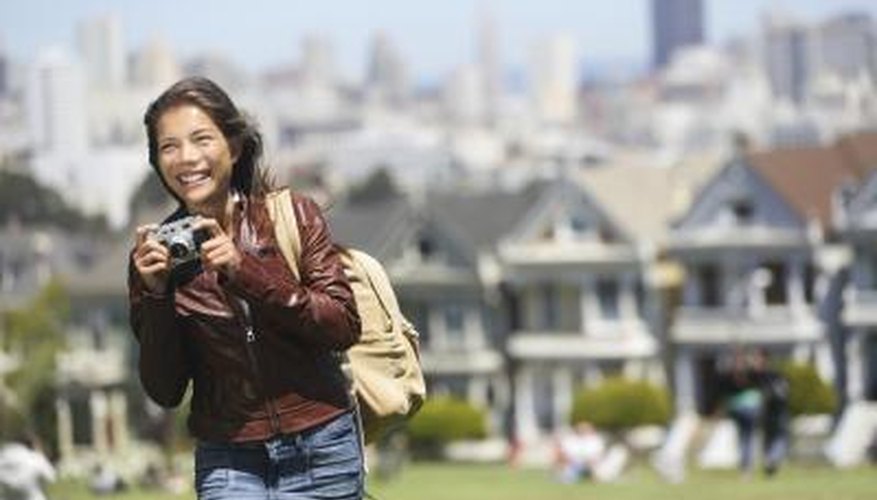 Utilize a four-color paint scheme by applying slate blue on the body of the house, cream on the trim, pale yellow on wide portions of relief and a bold mulberry hue on decorative details.Painting a home comes down to choice. Selecting colors that suit individual house style works well, but settling on a palette that pleases the homeowner works even better.