Patio Chairs
Bamboo makes sturdy and light-colored wood furniture. Builders create a variety of furniture pieces from bamboo, some of which can sit both indoors and outdoors. .
Bamboo makes popular patio furniture and many styles of bamboo patio chairs readily exist for sale. People like bamboo patio chairs because of their sunny light color and because of the wood's ability to stay strong despite different weather conditions. People can make woven wicker furniture out of bamboo or use larger pieces of bamboo to make unwoven furniture.
Bamboo Screens
Bamboo screens provide a classic Asian look to a building. They tend to be free-standing room dividers with strong wooden bamboo frames covered with a layer of woven bamboo or paper for privacy. According to the Smithsonian Center for Materials Research and Education, Japanese people use screens for an array of purposes, such as decorative backgrounds at performances, enclosures and at tea ceremonies.
Bamboo Tables
Bamboo makes attractive indoor or outdoor tables. Furniture makers can finish and polish bamboo in various ways to make it a range of colors and give it different amounts of gloss.
Bamboo Pole Furniture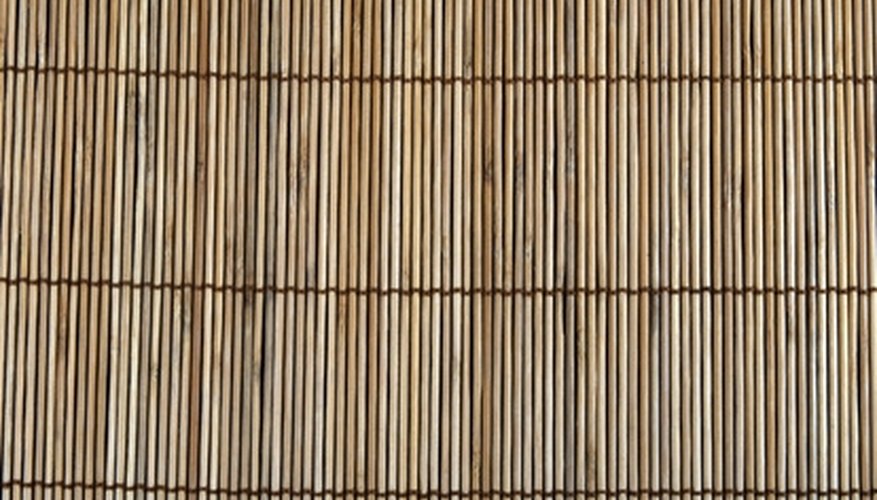 Practically any flat furniture surface can be made from bamboo poles rather than solid slabs of wood. For example, bamboo poles make attractive sides to night stands or dressers for an Asian or tropical look. Bamboo poles also make practical pullout baskets instead of traditional drawers.
Bed Frames
Bamboo, especially large species of bamboo that make big pieces of lumber, works well in bed frames. A furniture maker can build practically any type of standard wooden bed frame from bamboo lumber instead of traditional lumber, and those who want to take advantage of the Asian look of bamboo can choose a bamboo platform bed frame.