Split Level Home Addition Ideas
A split level home has a floor plan that separates living spaces into different levels. The living area is set off the main entrance, an ascending stairway leads to the bedrooms and a descending stairway leads to a multipurpose space, laundry and a garage. Additions to a split level home can extend the living space to accommodate the needs of a growing and changing family.
Family Room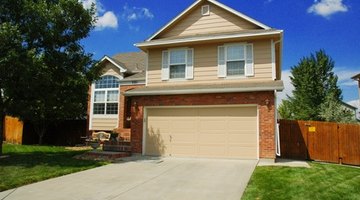 Extend the lower level of a split level home into the backyard to make a family room addition. This addition can be much larger than the other rooms of the house, since it will be a space for recreation and lounging, as well as a welcoming space for family and friends to enjoy. Add a full bathroom next to this room if there isn't one on the lower level. This way, your family and friends will not have to go upstairs to use the bathroom.
Master Suite
Convert and extend the attic space over the one-story living room to make a master suite. Include in the design a master bathroom, walk-in closets and a sitting room that can double as a nursery for expectant parents.
Office
Adjacent to the garage or in the garage space, construct a home office if you work at home. Give the office an exterior door to welcome clients. Having a home office on a different level of your home than its living space will make it feel like a separate professional environment.
Guest Room
The lower level of a split level home is ideal for adding on a guest room if the other bedrooms of the house are claimed. A guest suite, complete with its own bathroom, that is separate from the main areas of the house will not only give your guests privacy, but it will allow you privacy as a host, too.
Apartment Living
If your family plans include moving a parent into your home or renting extra space to help pay the mortgage, adding on a studio or one-bedroom apartment is possible for a split level home. Even with all of the other additions, an apartment can be added on at the other end of the house, near the living room.
Do not extend the house lengthwise, though, according to Remodel or Move, as this will make the house look too long and awkward. Add the apartment as an extension along the back of the house, and give it an exterior door that opens to the side of the house and not into the backyard for more privacy.
References
Resources
Writer Bio
Naima Manal's articles on health, diet, nutrition, alternative medicine, education, parenting, crafts, travel, home and garden and home improvement have appeared on various websites. Manal received her Bachelor of Science in biology/pre-medical studies from Molloy College in 1994 and has been a freelance writer, teacher and homeschooling mom since 1993.
Photo Credits
More Articles