Kenmore Dishwasher Specs
Kenmore brand dishwashers are available in a number of different form factors. The specifications will vary, depending on the model and type. Kenmore dishwashers meet standard size specifications both for built-in dishwashers and for portable dishwashers. This makes them a suitable replacement unit for an existing, older dishwasher. By looking at the different features available, you can select a dishwasher that will suit your needs.
Sizes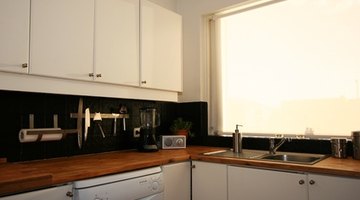 Kenmore makes several different sizes and types of dishwashers. Portable dishwashers, or dishwashers that aren't built in to your cabinetry, are available in 18-inch widths. Kenmore portable dishwashers are 26 3/16 inches deep and 35 7/8 inches high. Kenmore's 18-inch-wide built-in dishwashers are 22 1/2 inches deep and can adjust to between 32 1/2 and 35 inches tall. Kenmore's 24-inch-wide built-in dishwashers are between 34 1/4 and 34 7/8 inches tall and between 25 and 25 1/4 inches deep.
Finishes
Varying models of Kenmore dishwashers have different types of finishes. Most lines are available in black, white and stainless steel, with one model available as an off-white. Stainless steel-fronted dishwashers are slightly more expensive than painted-front dishwashers.
Interior Materials
Kenmore dishwashers use tubs that are either stainless steel or plastic. Racks are made of nylon coated wire. Silverware baskets are plastic. Higher-end dishwashers feature stainless steel washing tubs.
Food Disposal
Although not all models of Kenmore dishwashers feature built-in food disposers, some do. Food disposal units built-in to some models of Kenmore dishwashers range from basic food disposal units to heavy duty stainless steel disposal units and units with macerators to deal both with soft and hard pieces of food.
Interior Compartments
The features available on interior racks and compartments will vary, depending on the model of dishwasher. Some models feature adjustable upper racks with fold-down tines. In some cases, the upper rack may be removable to allow larger items to fit in the lower rack. Some upper racks have baskets for small items. They may also have special holders for stemware. Some lower racks have special holders for cutlery and may have fold-down tines. Lower racks may have silverware baskets with covers or silverware baskets that are splittable.
References
Writer Bio
Although he grew up in Latin America, Mr. Ma is a writer based in Denver. He has been writing since 1987 and has written for NPR, AP, Boeing, Ford New Holland, Microsoft, RAHCO International, Umax Data Systems and other manufacturers in Taiwan. He studied creative writing at Mankato State University in Minnesota. He speaks fluent Mandarin Chinese, English and reads Spanish.
Photo Credits
More Articles