LG Front Loading Dryer Vibration Issues
The LG Corporation manufactures televisions, electronics, cell phones, computer products and home appliances, including clothes washers and dryers. Front loading dryers by LG are energy efficient and include a large capacity drum to dry larger loads of items in a shorter amount of time. The dryers also offer a sensor dry system that measures the remaining moisture in a load and adjusts the drying time automatically. If issues such as excessive vibration occur during use with the LG dryer, there are a few possible causes that are relatively easy to resolve.
Installation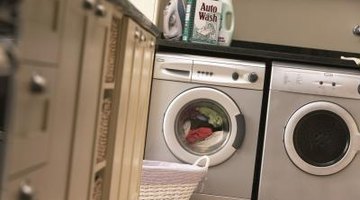 The use of a pedestal to raise the front loading dryer off the ground can cause vibration if the installation was not performed correctly or the hardware has become loose. Check the screws that connect the pedestal to the dryer unit and ensure they are connected firmly. Tighten if needed. Lift up each edge of the dryer pedestal and securely tighten the locknuts on each corner. Note that assistance may be needed to hold up the dryer while the locknuts are tightened.
Uneven Load Distribution
Vibration may be caused by an uneven distribution of materials inside the dryer. Open the dryer door and redistribute the items inside the dryer evenly. See if larger items such as towels, sheets or blankets have become twisted or intertwined, creating an uneven load and creating excessive vibration.
Other Causes
An uneven or sloping floor may cause the dryer to vibrate due to an uneven base. Use a level to check the floor on which the dryer is positioned. Place pieces of plywood underneath the dryer if necessary to level out the floor underneath the dryer. In addition, move the dryer several inches away from the clothes washer or other appliances as contact during use may cause vibration.
References
Writer Bio
Meredith Jameson writes early childhood parenting and family health articles for various online publications. She holds a Bachelor of Arts in history from San Francisco State University.
Photo Credits
Andrew Olney/Photodisc/Getty Images
More Articles