Design Ideas for a Pediatric Exam Room
Going to the doctor's office can be scary for children, and the look of the exam room has a lot to do with a child's initial impressions. A bright, colorful room can help put a child at ease, while a cold, dark room may make him tense and afraid. Exam rooms are a challenge to design because the space is often small, and tool storage, doctor mobility and a sanitary environment are of primary concern. Comforting design elements can be added to the pediatrician's exam room without interfering with the room's function.
A Coloring Space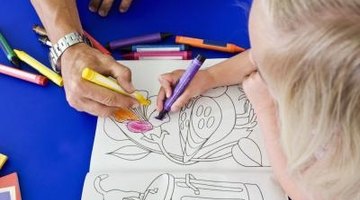 Children often are left waiting in an exam room while the doctor steps out. Provide them with a spot to do something fun during these times, such as a coloring table. Near the patient's chair, install a small tabletop that is hinged to the wall and can be raised and lowered. Using a collapsible tabletop instead of a standing table will help save space. Install a cubby in the wall above the table to store crayons, paper and coloring books. Have children sign and date their drawings. Over time, frame favorite drawings to decorate the walls. Eventually you will have a chronological display of patients' artwork that reflects the history of the office.
Sky Ceiling Mural
Many exam rooms are windowless, creating a tight, claustrophobic atmosphere. Bring an airy, open feeling into the exam room by painting a mural of the sky on the ceiling. You don't have to be Michelangelo to create an impressive ceiling; using a projector enables you to trace elements onto the ceiling. A sky mural can be simple, with just clouds, or more complex, with birds or airplanes. The sky can even be fantastical, with images of flying dragons, fairies, rainbows and butterflies. When the child is lying back on the exam table, she can gaze up and find comfort in the illusion.
Funky Furniture
Simply using interesting furniture, rather than standard, boring exam room furniture, can make a world of difference in how a child perceives the exam room. Funky furniture reflects humor, which can contribute to the healing process. Instead of a traditional black exam stool, choose one in a bright hue. Transform the exam table by installing painted plywood shapes of cartoon animals, such as pink hippos, to the sides. Slide stacks of colorful plastic rings onto table legs so they resemble strange, Dr. Seuss-like towers. Cover the floor with polka dot carpeting or a checkerboard of colorful tiles. For the storage of personal effects, install oddly shaped cubbies or a silly coat rack painted with polka dots or an animal print. Incorporate colorful sconces and light covers as well as switch covers printed with popular cartoon characters.
Writer Bio
Mason Howard is an artist and writer in Minneapolis. Howard's work has been published in the "Creative Quarterly Journal of Art & Design" and "New American Paintings." He has also written for art exhibition catalogs and publications. Howard's recent writing includes covering popular culture, home improvement, cooking, health and fitness. He received his Master of Fine Arts from the University of Minnesota.
Photo Credits
Jupiterimages/Goodshoot/Getty Images
More Articles