Fabric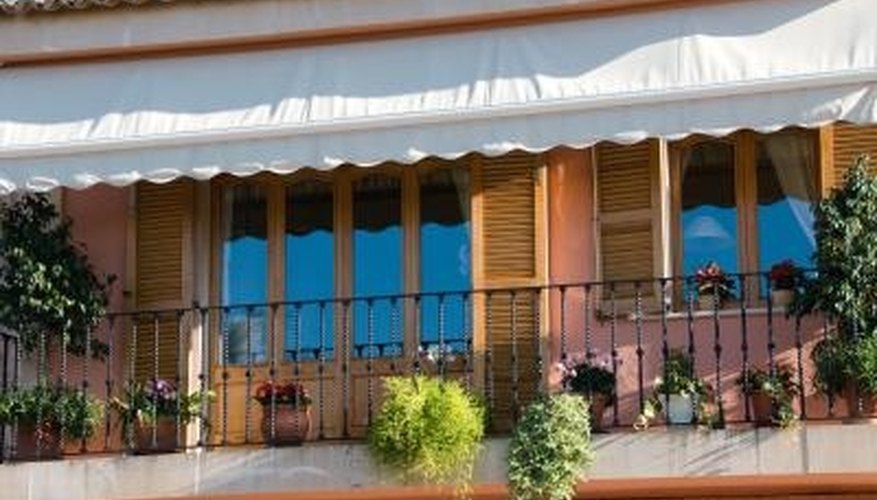 Awnings provide shade, privacy and rain protection as well as add color and style to a building. Although some awning styles, such as retractable awnings, require specialized parts, canvas window awnings use materials readily available to the homeowner.
"Awning fabrics are specialized fabrics designed to withstand the sun's damaging ultraviolet rays," explains Darin Tennant of Indian River Canvas in Merritt Island, Florida. Regular fabrics, if used outdoors, would quickly fade and disintegrate. Most awning fabrics are made from an acrylic material. Find outdoor-rated fabrics at awning shops, fabric stores and some boat marinas.
Frame
The awning frame holds the awning fabric securely. Awning frames are typically made of either aluminum tubing or galvanized steel pipe. Although commercial awnings are welded, make your own awning frame using 1-inch diameter galvanized water pipe with threaded ends. You will also need 90-degree threaded elbows to make the awning corners. To secure the rafters, fasten metal straps to the awning's front bar.
Hardware
Awning rail is attached with self-tapping screws to the awning's top bar. The awning rail holds the awning fabric in place. Awning rail is not generally available in retail stores; visit a local awning shop to purchase it. Lags or expanding anchors hold the awning's top bar to the wall. Use post sockets to attach the bottom bars of the awning to the wall.
Finishing Supplies
Many awnings have a fancy design cut into the bottom fabric of the awning. Use binding to keep the cut edge from fraying. The binding must also be rated for outdoor use. For sewing the awning, you need a specialized thread that is stronger than ordinary thread and will not disintegrate in the sun. An awning attaches to the framework with grommets and line, a type of thin rope. Use spur-style grommets and ¼-inch polyester line. Find all of these items at fabric stores or awning shops. Home improvement stores also carry grommets and suitable ¼-inch line.