How to Recycle Window Treatments
Table of Contents
One of the quickest ways to give any room a fresh appearance is to update your window treatments. Whether you opt for blinds, shades or drapes, window treatments not only enhance your windows, but also help you save energy by blocking winter chill and summer sun.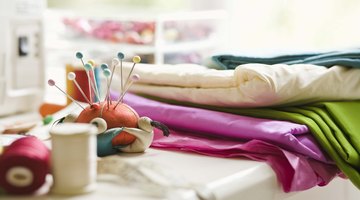 Although the update may look wonderful, you'll need to do something with your old decor. Instead of tossing your previous window coverings in the trash, consider one of several recycling options.
Trashy Problems
In 2011, Americans generated 250 million tons of trash. Recycling your window treatments or finding a new use for them keeps materials such as vinyl, plastics, metal, wood, cotton and man-made fabrics.out of the landfill. This not only conserves natural resources that go directly into the end-product of window treatments, but also reduces energy use, industrial waste and greenhous-gas emissions, since new materials and products don't need to be produced and shipped. For example, recycling a million tons of textiles reduces greenhouse gases enough to equal taking 500,000 cars off the roads; 2.7 million tons of recycled plastic is like taking 640,000 cars off the roads; and every 7.5 million tons of metal recycled is equivalent to keeping 4.2 million cars in the garage.
Shop Smart
When shopping for blinds, curtains or any window covering, ask the retailer if they have an exchange program. Some companies may offer to haul away old treatments when they deliver and install your new ones. Before you jump at the offer, ask whether they simply haul the items to the trash or actually participate in a recycling or donation program.
Find Another Window
One way to recycle your old window treatments is to keep them in your home. You may no longer like the coverings in your living room, but if the blinds or curtains you took down are still in good shape, you can always fit them to windows in another room of your home. If drapes or sheers are too long, hem them into curtains and use the excess for valences or tie-backs. Blinds and shades made for a specific window may not be a perfect fit for other windows, but some models can be trimmed to size or have slats removed to make them fit smaller windows.
Find Another Use
Finding another use for window treatments is another form of recycling. Curtains provide yards of material for sewing projects. The slats in blinds can be removed and cut into smaller pieces for plant tags, bookmarks or other craft projects. The material of cloth shades can also be used for sewing. Wooden or bamboo shades can be taken apart for garden projects. If you've been thinking of making an outdoor movie theater, that old vinyl roller shade can be turned into your movie screen.
Donate Your Stuff
Charity groups are wonderful places to take old clothes and toys, but some will also take old window treatments. Many donation centers accept curtain panels and sheers, but you may need to call around to find out which groups take curtain rods, blinds and shades. All items should be clean and in good, working condition. If possible, try to include all the hardware to install blinds and shades. If you know someone setting up a first home, ask her if she would like to use any of your old window treatments.
Drop It Off
If you can't find a way to donate or reuse your window coverings, look for places that will recycle the materials. The company that handles your garbage may be able to give you options or you can search online for recyclers in your area who handle the materials your window treatments are made of. By contacting local environmental groups, you can learn about scheduled recycling drop-off events that take a variety of household items. In some cases, you may have to pay a small fee to drop off your materials.
References
Resources
Writer Bio
Based in Portland, Ore., Tammie Painter has been writing garden, fitness, science and travel articles since 2008. Her articles have appeared in magazines such as "Herb Companion" and "Northwest Travel" and she is the author of six books. Painter earned her Bachelor of Science in biology from Portland State University.
Photo Credits
Jupiterimages/Polka Dot/Getty Images
Jupiterimages/Polka Dot/Getty Images
More Articles